There comes a point when you are seeing a Scorpio when you might wonder how to tell if a Scorpio man just wants to be friends. Everything seems to be going well, but he just isn't making the commitment that you desire.
One moment you think you are lovers, and the next thing it feels like you and your Scorpio guy are just friends. Perhaps he is just using you as a rebound relationship or as a "friend with benefits." This can be super confusing and really frustrating. What should you do?

Are you dating a Scorpio man but aren't sure what's up with him or how he feels about you? Does he actually care for you, or is he just using you as some sort of booty call?
It is crucial to your future endeavors in love to know the difference! I can definitely help you to figure out how to tell if a Scorpio man is using you.
The Scorpio man is very sexy and very good in bed. However, there are situations where some women cannot figure out if they're being used for sex or if he is really into them.
You may want to keep reading to see if you can determine all the signs that a Scorpio man is using you. Maybe he is, and maybe he isn't. It's time that you are able to see the difference!
Can A Scorpio Man Just Be Friends With A Woman?
Scorpio men are incredibly intense creatures and tend to have an all-or-nothing kind of attitude. He wants to be the boss and the person who makes up all of the rules. Being friends with a Scorpio man is unlikely, especially if the two of you have a sexual history.
This is a man who takes his relationships quite seriously, and I don't foresee him wanting to be friends with a woman he has a history with because down the line, it might complicate his future romantic relationships.
Of course, if things were never sexual or romantically inclined between you and him, then it is possible for you to be friends with a Scorpio man. But I wouldn't suggest befriending a Scorpio man if you have hopes of something more serious with him in the future.
When a Scorpio man wants a woman, he will go out of his way to make her his. If he doesn't pursue her in any way, he is likely not interested (and likely never will be). The Scorpio man knows what he wants!
>> Learn more about Scorpio man likes and dislikes in a woman.
Reasons Why A Scorpio Man Just Wants To Be Friends With You
You Slept With Him Too Soon
Sleeping with a Scorpio man too soon can be quite the faux pas. These guys love the thrill of the chase and working their way towards something. Perhaps you were taken with passion and couldn't help yourself and slept with him too soon.
These things happen, but unfortunately, that is probably when your Scorpio man will lose interest and only want to be your friend. Never sleep with a Scorpio man too soon, because he will never respect you or see you as someone worth being with.
He Is In Love With Someone Else
When a Scorpio man loves, he loves hard and he gives his heart to that woman. It can take a very long time for him to get over her, and while he is in this process, it is unlikely for him to notice anyone else.
This is probably when he would suggest just remaining friends with a woman. He knows that he can't share his heart with her and his affections lie elsewhere. He is trying to protect you, so when he says he just wants to be friends, respect it.
You can be patient and wait for him to come around, but you may be wasting your time.
Are Scorpio men faithful in relationships or will they cheat? << find out here
He Doesn't See A Future With You
Like I have mentioned before, when a Scorpio man is interested in a woman, he makes it known and goes out of his way to get her to be his. However, this man is incredibly picky, and he won't settle for anything less than perfect.
If a Scorpio man only wants to be friends with you, it is very likely that he doesn't think the two of you would be a good match. This guy has a really good intuition and he knows who he is, so if he doesn't feel that connection, then he isn't going to force it.
There is nothing you can do about it. Accept it and move on to someone who sees how amazing and worthy of the love you are!
He Doesn't Trust You
One of the biggest things for a Scorpio man is trust, especially in his relationships. You might not think it but he is actually such a sweet and sensitive guy under that hard shell.
One of his biggest fears in life is being betrayed or getting hurt by someone he loves. This causes him to put a guard up and be too scared to open up his heart to love. It is just easier for him to put up his walls and make friendship the priority.
Perhaps he has been burned in the past and just isn't ready to make a commitment to someone new yet. He needs time and space to heal, and maybe friendship is all he can offer you at this time.
Respect it, and allow him to heal.
The lowdown on a Scorpio man only wanting to be friends: There could be many reasons why a Scorpio man only wants to be friends with you and it could be anything from him being in love with someone else to him simply not feeling ready to be in a relationship with someone.
Here's How To Tell If A Scorpio Man Is Using You
1. He Talks About Sex A LOT
If you are at the beginning stages of talking to a Scorpio guy and he keeps asking you for dirty pics, tries to sext you, or talks about what he wants to do when you're together again, he may be in it only for sex.
When a Scorpio man actually wants a relationship with someone, he typically will save the sexy talk for later, once the bond has been formed and he's sure that the relationship is going somewhere.
Scorpio is only playing around when he wants to talk about sex with you and nothing else. This will be especially true if you've already been suckered into getting into bed with him. Scorpio men can be a little prudish when they actually like someone.
He'll hold off on having sex until he thinks there is hope. If he's diving into bed right away, your Scorpio is not interested in a relationship, he wants either a booty call or a one-night stand. That is a surefire sign a Scorpio man is just using you for sex.
Is he asking you for naughty photos or texting you too much? He's playing you and isn't interested in forming a lifelong relationship filled with love and romance. He wants a good shagging, nothing more.
2. He Doesn't Want To Go Out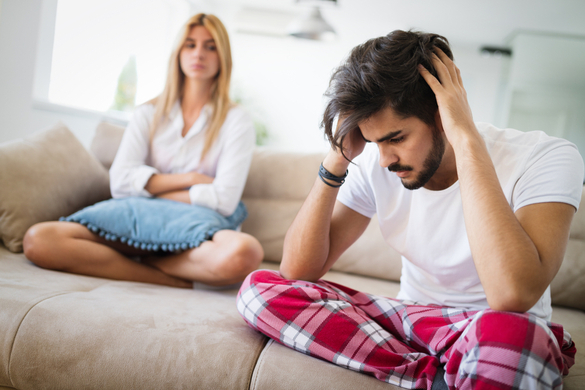 A trademark of a Scorpio man who is only using or leading you on is that he never wants to go out in public with you. Scorpio guy doesn't want to get together with you and your friends both. This guy just wants you for himself.
The Scorpio man won't take you out to be around his friends either. He claims that he wants time alone with you, but really what he's doing is getting what he wants from you and has no intention of anyone knowing about you.
You've become his dirty little secret that he has to keep under wraps so that no one thinks he has a girlfriend. That also means that you are NOT his girlfriend, you're a friend with benefits or a one-night thing.
A sign of him wanting to stay in all the time when you're with him is a huge red flag for you that should let you know he's not in a relationship with you and may not want one either. You might ask him directly for the truth, so you will know what he wants. This is a sign that a Scorpio man is using you.
If you have had enough dealing with his going hot and cold behavior, I strongly recommend checking out my 30-day Scorpio Man Love Challenge… It will set you on the right path with your Scorpio guy.
3. He Doesn't Want To Meet Your Friends or Family
As I mentioned, he won't want to go out anywhere with you where he may be seen or where you would be spotted and recognized. He won't express any interest in meeting your friends or your family.
If you ask or indicate that you'd like for him to meet them, he'll come up with excuses as to why he doesn't think he should or why he's not yet ready. The problem is, months go by and he still doesn't want to.
That's another red flag that you should pay attention to, ladies. A man that has no interest in your friends or where you come from has no investment in you, and will not want a future with you. This is another sign a Scorpio man is just using you.
A normal Scorpio man wants to meet his woman's friends and family, so he can learn who she really is, where she comes from, and what he can expect from her in the future.
4. He Doesn't Open Up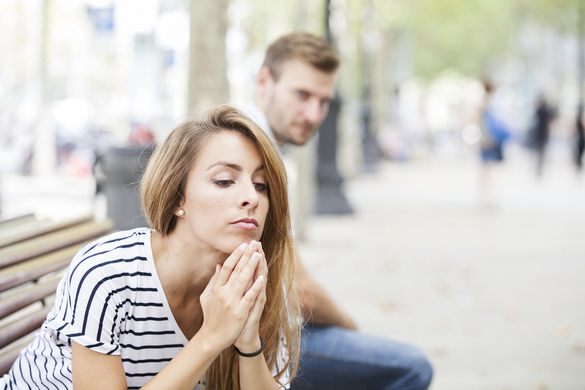 Scorpio men do not open up easily, at all! They take a whole lot of time to make sure they are safe and secure in the relationship. They have to trust a woman to want to talk to her.
That being said, if you're seeing a Scorpio man or talking to one but he never wants to talk about personal stuff, this is a sign he's either not ready or he's not really into you.
A woman he's just using for sex will never get to know him on a deeply personal level. He has no care or trust in her, therefore, he will never reveal who he truly is, and it is a sign you should walk away.
What are the most common Scorpio man weaknesses in love? << find out here
A Scorpio man who is playing you will keep the conversation very basic and/or sexual, without any actual emotion or content. This is a bad sign. If he continues doing this as time passes, he's not into you. It's probably time to move on.
5. He Only Calls For Sex
I've mentioned his drive for sex. Well, the Scorpio man will only call you up when he's really bored or wants some sex. Whether it's phone sex, sexting, or asking you to come over, it's all about physical intimacy. Another red flag that a Scorpio man is just using you.
This is all physical intimacy without any real emotional intimacy. There's a possibility he won't even invite you to stay the night or will ask you to leave first thing in the morning if you do stay over.
He isn't interested in playing house with someone he's just screwing. So, if you are able to tell by all these signs that he's only into sex… that's where his head is at and he isn't in relationship mode.
He has no interest in who you are, where you came from, or what you want with him other than a pleasure ride. Keep these things in mind when you are trying to figure out if he's really into you or if he's just playing you.
These are all definitive signs a Scorpio man is using you. Get wise, pay attention, and watch for these red flags and you'll save yourself some heartache in the long run.
6. He Just Doesn't Commit
Sometimes, it's as simple and straightforward as an outright lack of commitment that tells you a Scorpio man is playing you.
You see, Scorpio men love the idea of a serious relationship and are actually very possessive of their partners. They want to own you when they are serious about you!
If you find that your Scorpio is dithering and hesitating about getting into a more serious commitment, you may have to accept that he's not interested in anything more than a bit of fun – as much as that stings.
If he was that into you, he wouldn't hesitate to make you his. So, yes, it is a definite sign a Scorpio man just wants to be friends with you.
7. You Don't Feel Emotionally Close To Him
The sign of Scorpio is a water sign, which makes him very emotional, sensitive and sweet, underneath all the defenses. When he's into a woman, all he wants to do is get emotionally close to her and form a deep bond.
If you're not feeling emotionally close to him, it's clear that he's not making an effort to really connect with you in that way. Trust me, ladies, when you feel close to a Scorpio, you know it, because it's as if you dive into each other's souls – he doesn't accept anything less!
Learn more on how to get your Scorpio man to open up and share his true feeling with you <<
8. All He Seems To Create Is Drama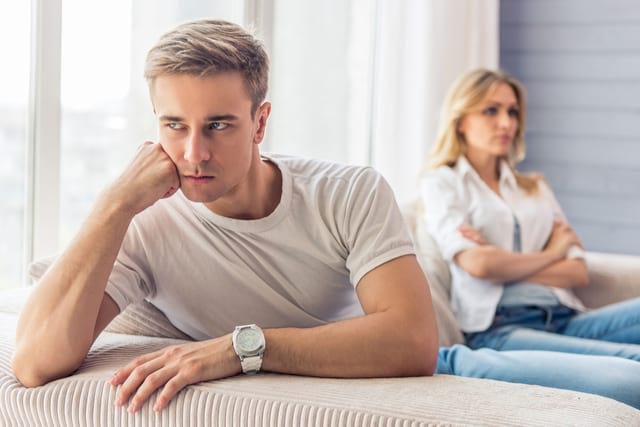 At his worst, Scorpio guys love to create drama. If they have recently been hurt or in a relationship when he's most especially prone to drama, or if he has other, unresolved issues going on in his life.
If you find that all he seems to do is thrive when things are difficult, he could just be playing you, because the best side of him just wants to settle down and enjoy life with you at his side.
He's definitely not ready for a relationship when he's needing to constantly find more drama in his life to dive into! And maybe, he just needs to deal with his baggage to be able to be ready to commit in future. Give him the space to do just that.
Scorpio Man Just Wants To Hook Up — What Should You Do?
The Scorpio man is a sexual being — there's no denying that! His favorite pastime is probably a good old-fashioned romp. This man loves sex, and he will get it as often as he can.
When he isn't too serious about a woman, he is more inclined to sleep with her very soon. That is when he doesn't care for love and romance, he just wants to do the deed and get it done.
If a Scorpio man just wants to hook up with you, then that is probably all you are ever going to be to him. This is a guy who loves commitment and being in a long-term relationship, so he will put in the effort for a woman he has feelings for.
But if he is just looking for sex and hooking up, then he is going to do the bare minimum. The last thing he wants is you to fall in love with him and complicate the situation even further.
When a Scorpio man wants to hook up, that is all he wants from you, and he has probably already made up his mind and knows that the situation isn't going to progress or become any deeper.
This is why you should never sleep with a Scorpio man too soon; you may ruin the chances of the two of you discovering a genuine connection together. Wait it out with this man!
The lowdown on the Scorpio man just wanting sex: When a Scorpio man only wants to hook up with you, he probably isn't too keen on seeing the relationship grow into something deeper and more meaningful.
More Signs A Scorpio Man Only Wants To Be Friends With Benefits
When a Scorpio man touches you, you can tell if he's really passionate and if he's into you. If he's all about sex then he's going to be rather dry and devoid of care. You should be able to feel a palpable difference.
When a Scorpio man cares and possibly is in love with you, he'll be sensual, soft, and gentle. If he's all about sex then he may try to hurry, he may not pay attention to your needs as a woman, and he may flip over and be done when he finishes.  Pay very close attention to his touch and you should be able to determine if your Scorpio man is using you or not.
Maybe the Scorpio man only wants to be friends with benefits. If that is true, there are signs a Scorpio man just wants to be friends. In fact, I'd like to share those with you now so that you're able to figure out if he's putting you in the friendzone or if he's actually interested in more from you.
Here are the signs that may interest you:
Wants to hang out and have sex, but doesn't want to sleep over (ever).
Doesn't take you out on dates, only stays in at his place or yours.
Doesn't introduce you to important people in his life.
He doesn't seem to want to talk about intensely personal things with you.
Flat out tells you that he isn't into having a relationship.
He keeps checking his phone while he's with you. It's like he's late or waiting to hear from someone.
The man won't bring up commitment, marriage, children, or anything else important like this with you.
Now you have some more useful information that helps you determine if he ever has any intention of being something more than friends with you or if he's keeping you as a friend that he can have sex with from time to time. If you don't mind being friends with benefits, then this isn't a big deal.
Does Your Scorpio Man Become Distant After Intimacy?

Does your Scorpio man pull away or get quiet when you've just had a deep emotional connection? Does he seem to disappear just when you thought he was getting closer? Have you felt confused by his hot and cold behavior?
If so, then he might have an avoidant attachment style.
He could be Dismissive Avoidant and completely terrified of commitment… Or he could be Fearful Avoidant and REALLY want commitment…
But get scared when he feels himself getting closer to you.
If he has either one of these attachment styles, you're going to end up feeling extremely confused at times. And both are caused by childhood trauma.
When you can see the scared little boy inside him that had to shut down his feelings if he's dismissive avoidant… Or have a parent not provide his needs consistently if he's fearful avoidant…
It can make it easier to have empathy and compassion for his confusing and frustrating behavior.
But that won't fix it.
And while advice on attachment styles can be helpful… What you really need to stop this frustrating hot and cold cycle is to understand him better.
Thankfully, there is a simple system to TRULY understand how he ticks based on his astrology.
It will stop him from pulling back when you begin feeling closer. And it will accomplish this in only 30 days.
So no more crying yourself to sleep when he pulls back… No more feeling incredibly confused. And no more wondering what in the heck is going on with him…
Even if he has an avoidant attachment style.
>> Go here now to turn things around with your Scorpio man in 30 days or less <<
xoxo, Anna