Are you experiencing the hot & cold syndrome with a Scorpio man? Are you unsure if he's just pulling back or if he's done? It's really important to learn all you can about your guy.
How can you tell when a Scorpio man is done with you? I will help you discover the signs you should look for. You may want to keep reading to help you get a good idea of if your guy is done with you or not.
Why Has My Scorpio Man Cut Me Off?
Sometimes Scorpio men can pull back or "cool off" when they're in a relationship because they're scared. However, when a Scorpio man is done with you he becomes that much colder.
He will stop calling, stop texting, stop replying, and he may actually say some not so nice things to you in an effort to get you to leave him alone. He could use your worst fears or sadness against you.
He's not a nice guy when he's trying to break it off. This is especially true if the relationship was particularly difficult. He'll be a real jerk to you if a Scorpio man is done with you.
The Scorpio man may also be abrupt with you. He'll say something rude to you while you're trying to talk to him seriously. He may also cut you off while you're talking, yell, or just be unruly without logic.
This is when his emotions take over and he cannot see the logic in the right way to handle things. If a Scorpio man is done with you, he'll be snippy and crappy. It may be particularly difficult if you live with him. It may be better if you do not.
Be sure you stand up for yourself. Scorpio men can sometimes run you right over if you allow for it. If he's showing you signs of exiting the relationship then tell him you see it and call him out.
You need to know for your own closure so that you can move on easier. Tell him to be open and honest with you since he expects that from you. If he still can't give you answers then perhaps you should move on for your own sanity.
Being Dishonest or Lying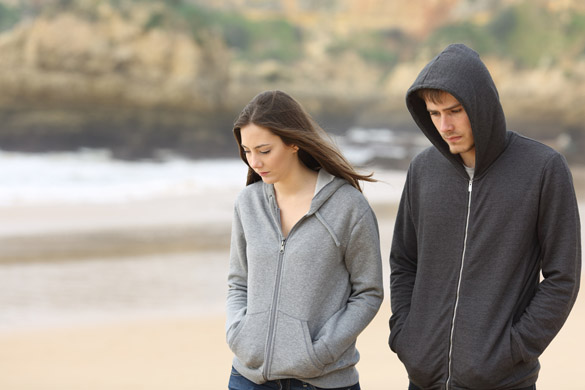 It will become painfully obvious that he isn't telling you the truth. In fact, with a Scorpio man, you can definitely tell by looking into his eyes when you ask him a question.
He will not be able to maintain eye contact if he is lying. He might fidget, look everywhere except at you, and he may have a quiver in his voice when he talks because he knows he's not being truthful.
If he doesn't want to hurt your feelings because you've been swept through the process, he'll lie to you. He figures it's better to do that than to destroy you. The nasty side only comes out if things were already bad.
When you know you've done all you could and he knows it but still wants to move on, he'll be afraid to hurt you or will feel guilty. That makes him pull back and not tell you the truth.
To keep it from going any further; this is likely when he will actually just go ahead and tell you that it's over. He doesn't want any more pain for you and he doesn't want to stay where he knows he doesn't belong.
Lies are not good from either side of the fence. Be sure you're the one always telling the truth even if he doesn't. Karma comes around and it's better to be on the good side of it.
Leaving A Scorpio Man Alone When He Has Zero Contact With You
You may ask yourself "why has my Scorpio man stopped texting me?" This is one of the tactics he may use to show you that he's ready to call it quits or has walked away.
This is when he exits and gives you no word of what happened, why, or that he's leaving. He'll just be gone. He will never call you, text you, or respond to you in any way.
This is the type of guy that if you live with him; he'll pack up all his stuff and move out before you get home one day. You'll get there and all signs of him are completely gone.
If he's angry; he'll be more obvious about it. If you did all you could and he cared for you, he may not want to confront you about his feelings so he'll just think it's easier to take off and leave.
It's not right but he will sometimes take the path of less resistance and that would mean not facing you when he really should. If you do not live together; he'll just vanish.
If he never answers your texts or calls; you'll know it. He may even go so far as to change his cell phone number entirely and make sure that there is no way you can reach him.
Once Scorpio man stops communicating you can pretty much guess that he's out and done. Be aware that if he doesn't answer you within a decent amount of time, he may never talk to you again.
This may have to be one of those times that you wake up and realize you need to start leaving a Scorpio man alone. Blowing up his phone or social media will only turn him off further.
Lashes Out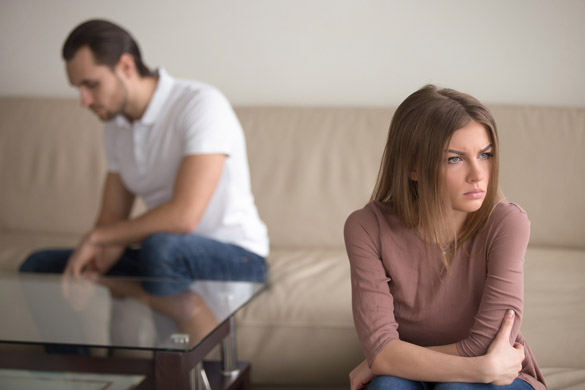 If the relationship has been rather rocky ones and lots of bad things have been between you; he may exit with an explosion. By that, I mean that he may feel the need to lash out at you.
When a Scorpio man hurts you more often than not, it may be time to really look at your relationship further. You know what you deserve and it's not an angry person always at you.
If you two have been together long enough; he knows your flaws, weaknesses, fears, and struggles. He may use this against you in order to get you back for what he perceives you've done to him.
He may also be very drastic like this in an effort to make sure you understand that a Scorpio man is done with you and that you should move on without him. This is just one way of making it very clear of his intention.
This isn't the proper way of doing things but again; he sometimes takes the path that will allow him to escape and not have you chasing him down or trying to get him back.
If he goes out this way; then it's not likely for you to ever get him back into your life. Honestly, if he does take this route and treat you this badly; why would you want him back anyway? You deserve better.
Revenge is never a healthy thing for anyone to act out or to be on the receiving end of. Be careful and don't let yourself get sucked into giving it or receiving it!
These are some major points or signs that a Scorpio man is done with you or wants to break up. He isn't one to deal with emotions very well as he has troubles when it comes to figuring out how logic works with it.
Sometimes he'll handle it delicately but other times he handles it haphazardly. It depends on how the relationship went and what he got out of it. Now you know definitively whether or not he's done or if he's just being cold.
Conclusion
When a Scorpio man hurts you, you need to really evaluate if maybe he's on his way out or is already gone. It's something that can help you to get closure or move on with your own life.
Again, get to know him as best as you can so that when these types of things come up, you're prepared and know what to do. Scorpio man is fickle but you can still find success.
It's all in how you two communicate from the beginning. Talk to each other as often as you can and be very open. That will allow for the avoidance of all
To find out more on how a Scorpio man behaves in relationships and other valuable tips, click here. It may help you to know ahead of time why he acts this way when he actually does have real feelings for you.
I truly hope this helps you open up and see the red flags before you get to them. It's best to prepare as much as you can. When a Scorpio man hurts you it can feel devastating.
I have an interesting tidbit about Scorpio men! Did you know that the gorgeous blue eyed actor, Ethan Hawke is a Scorpio man? He was previously married to the beautiful actress Uma Thurman who is a Taurus woman.
Share your story (or situation) with our community in the comment section below (don't worry, it's anonymous).
Wishing you all the luck of the universe
Your friend and Relationship Astrologer,
Anna Kovach
---
---