Put him under your spell
How astrology can help you snatch a Scorpio's heart (even if he is cold, distant and unemotional)
What Others Say About My Astrological Guidance…
It's awkward for me to acknowledge this here…
But I promise this will be incredibly helpful for you and the Scorpio man you desperately want.
As a bright Psychology student, I thought it impossible to understand a Scorpio man, especially when he likes a woman.
You see, a Scorpio is so confusing. He can be so hot and protective, but he can be so cold, distant and unemotional, like Mr. Spock from Star Wars. It's a tall order to "get him."
Until one day I stumbled upon how to read a Scorpio man like an open book right out of the gate.
Initially, I was skeptical about it, but then I realized the incredible power of astrology from close quarters. This revelation is what leads me to my understanding of a Scorpio man's deepest desires, his personality, and his nature in love.
In a moment you'll discover subtle yet accurate ways to read a Scorpio man who seems nothing but a stone to you now and you'll get a roadmap to snatch his heart.
As you follow that map and unlock his heart you'll find he is attentive to your every word, like a puppy, thinking and fantasizing about you not just with love but with a deep sense of worship, begging you to be his and only his.
Can you REALLY get a Scorpio man to chase you, even if your signs are incompatible?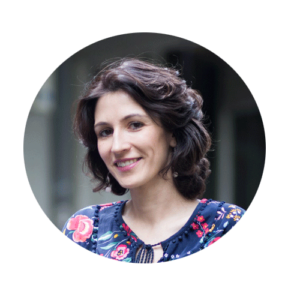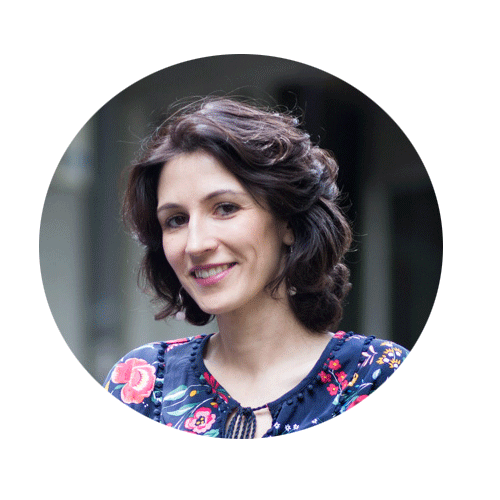 I didn't believe it either, until it happened with me when someone used this magical power on me.
Hi, my name is Anna Kovach and I'm an Astrologer.
The reason you're here is because you're interested in a Scorpio man. Maybe you love him and you want to understand him, or you like him and want him to chase you, or maybe you just want to get a Scorpio man back in your life.
In any case, you've come to the most valuable website on the Internet because I promise you, woman to woman, that here you'll find secrets that were hidden from you, ones to make him obsessed with you, ones that will break through a Scorpio man's sometimes weird and dark nature, despite him trying his hardest to play mind-games with you or to ignore you.
Let me begin with a simple truth that you may already know: our intentions and our actions create our destiny. The reason you found this hard-to-find page tells me that your destiny has something in store for you.
What could it be? We don't know yet. But by the time you've read this page you'll get all of the answers and you'll have a step-by-step plan to steal a Scorpio man's heart and to make him fall desperately in love with you.
Here's a glimpse of what you'll discover here:
Does he just want to sleep with you or does he actually like you?
Complete Scorpio man's personality traits.
How compatible are you with a Scorpio man?
Why he has stopped talking to you and why he doesn't answer your calls or texts?
Why are Scorpio men so frustratingly complex?
Why do Scorpios NEVER call or text first?
Do Scorpio men like to play mind games with their lovers?
Why does a Scorpio man ignore you?
What is the best way to approach him and to keep him interested?
What are the best ways to attract and KEEP a Scorpio man?
Why Scorpio men are so cold and unemotional?
How does a Scorpio guy behave in love?
Are Scorpio men loyal or promiscuous?
How to win back a Scorpio after a breakup
And much, much more…
Do you know that astrology can easily bring you love, luck, and happiness with a Scorpio man?
When a Scorpio man feels that you don't "get him" he pulls away or gets possessive, and ends the relationship even if he wants to be with you.
Scorpios, being co-ruled by Pluto (the god of the Underworld), are mysterious.
No matter how long you two have been living together, or how many Scorpios have you dated, he'll never reveal certain dark and mysterious parts of his personality.
When you give off different signals and speak in a language he doesn't resonate with, it adds to his misunderstanding that you're not the one to whom he can give it ALL.
That is when Scorpios draw back emotionally. They give excuses of being busy, they send you confusing vibes, they get stubborn about their thoughts, their plans, and their schedules, and suddenly they turn ice cold or they become clingy.
It's the beginning of the end of trust in a relationship. If you want to stop or reverse all of it then I have great news for you.
A Scorpio man doesn't have to be the mystery that they are.
Here I'll tell you the strange story of how I used astrology to attract my man like a magnet. It doesn't matter whether you don't know his name or you think you know him better than he knows himself, you'll soon find that the magic of astrology can help you get him easily and without much effort.
Even though I'm a devoted astrologer now, not that long ago, the horoscopes, zodiacs, and astrology were just a bunch of mumbo-jumbo to me.
But then I met "The One".
I was a college senior when I started dating this hot man, Frank, a Taurus. He was nice and I became addicted to him. I was finally happy, looking forward to walking down the aisle with my love, my soul mate, and my destined partner.
For a couple months everything was fine, until suddenly things nosedived and troubles crept in between us. I couldn't understand why he was doing what he was doing, and how I should have handled him and his dark personality.
I didn't want to lose him, but it seemed that no matter how hard I tried to save our relationship it just wouldn't work. I had no idea how to make him happy and how to stop my soulmate from pulling away.
He doubted our future together and I could not stop him from dumping me. I could not make him love me.
One day he suddenly broke up with me over the phone. BAM!
All of my dreams were shattered in a moment and I was devastated. My worst fears were manifesting. The harder I try to mend things with him, the quicker he was pulling away.
Why is this happening to me?
Yet another wonderful man left me for no fault of mine.
I cried for days, and then, taking pity on me, my mom suggested that I take a vacation to Romania. My family emigrated from there when I was a little girl.
I didn't feel like going to Romania. I thought he would come back. And then, I saw him with another woman. I grew determined to forget him.
I packed my bags and left for Romania. I thought new people would help me. My first stop was Otopeni, located at just slightly north of Bucharest. And at Vernesti, my aunt came to pick me up. It is about a half an hour drive from where she lives in Soresti.
It was a pleasant journey and a big surprise was to come. Was there a new relationship or someone for me in Romania?
When I saw my aunt, she was absolutely radiant. I immediately felt an avalanche of positive energy and I began to feel much better.
Even as I was enjoying the countryside, she surprised me by asking what was wrong with me! I did not want to keep things to myself so I vented everything out into the open. It was so relieving.
My aunt smiled and nodded as if she was expecting it, and said, "What sign is he?"
And when I replied she had an even BIGGER grin.
I was astonished, why is she so insensitive? I'll probably have a tough time here, I thought.
And then something happened which confounded me.
She revealed a few details about Frank that I never mentioned to anyone. I must have looked puzzled and stupid the entire time.
What nobody told to me was that my aunt was an ace astrologer. Actually, astrology is big in Romania. Television and newspapers are filled with ads from psychics, astrologers, and oracles.
When finally we reached her home, which was more like a castle, I discovered she is doing well in her vocation. Her customers include top honchos, big politicians, and CEO's. People would fly in from around the world to consult with her.
We finally settled down for refreshments, and my life was about to change, forever.
I was still surprised about how she got things correct about Frank, and then she prepared a full Synastry report and I was blown away. To me it looked like a complete psychological analysis and I realized if only I had this information earlier then things would have turned out much different.
But now it was too late and I assumed that Frank had already moved on.
But that's when the magic of advanced astrology was about to begin, despite us being not very compatible.
You see, astrology is much more than the usual junk you read in magazines and newspaper horoscopes. It is a much deeper science. And if you're still not fully convinced then here are some facts for you…
Of course, you must know the phenomenon of the tides. The sun and the moon, even when they are millions of miles away from the earth, move HUNDEREDS OF BILLIONS OF TONS OF WATER so effortlessly!
Our bodies are built with 70% water and along with others celestial bodies influence our decisions and life.
But still, many people think that astrology attracts the unscientific. But the truth is far from it, studies show that astrology appeals mostly to intelligent and logical people.
What do famous scientists like Galileo, Albert Einstein, Carl Jung, and Johannes Kepler have in common?
All of these scientists believed in astrology.
In fact, it recently came to light that the wife of Ronald Reagan, one of America's most famous presidents, relied on Astrology to guide her husband to great success in White House AFTER the Iran-Contra fiasco in the mid-1980s.
There is no doubt that from politics, to the stock market, to relationship problems and marriages, Astrology is one of the most consulted sciences when it comes to making big decisions.
There is overwhelming proof now and in 1960s in a study, astrologers beat psychologist left and right when it comes to predicting case histories.
This is when I began to take this science seriously.
I realized how, as a Gemini woman, I was so incompatible with a Taurus man. And then, as if my aunt took my hand and gave me an insider's look into the nature of Frank's mind, all of his hidden thoughts and emotions became crystal clear to me. What was he thinking, what had he wanted, and how had he wanted things to go?
I wished I had taken the tour to Romania before, but luckily something amazing was about to happen.
Armed with this new knowledge, I packed my bags and left on a mission to GET my Frank back.
I wasn't sure if Frank was seeing another woman or not, but without anymore fuss I called him.
He immediately picked up the phone and asked me where I was, and then we talked for over an hour. No pleading, and no emotional blackmailing. I tried to stick with what my aunt had told me and I talked in his language!
By the time, we finished something incredible happened and Frank said there was something different about me and asked if we could meet.
I didn't know what to say, but I tightened my fist and wanted to scream a "yeah".
When we met I followed the psychological roadmap that was shown to me by my aunt. I was terrified and I thought, what if Frank realizes I'm playing games or that I have a script?
But by the time we finished he was clearly feeling guilty for breaking up with me!
And he wanted to come back.
I didn't know how to behave, but I wanted to run and scream with joy. Somehow I kept my composure and politely said, "we'll see".
Long story short, he came back and I realized the power of my vocation.
For the next few years, I regularly visited my aunt and learned this science from her and other top guns. Ultimately, it became my profession and I started helping others in their relationships.
Now an obvious question you may have is, what happened to our relationship?
Our love grew deeper and stronger and Frank was always besides me…
We enjoy traveling and talking late into the night, and after almost two years after our patch up he went down on his one knee and proposed me to marry him.
I was in heaven!!! I wanted to dance and kiss him wildly. I had merely followed the roadmap to his heart, which was shown to me by Astrology.
And this roadmap and this psychological profile of a Scorpio is what I'm going to give you today.
It could be your secret weapon to attract and make a Scorpio guy mad for you.
How to read a Scorpio Man like an open book
Imagine his mind as a maze and his heart at its center. You need to solve his puzzling talk, confusing mind games, and mood swings in order to get there. You must get the real meaning behind what he does and says.
Now what if you have the secret keys to his heart and a cheat-sheet to control him?
Of course, you can spend a fortune on expensive and cumbersome consultations with relationship counselors or therapists or coaches… but I've done something that will blow your mind away.
Here's why I'm excited: a few years back I did something that was an instant success. Many women (and men) wrote thank you letters for helping to attract or save their relationship. And at the same time, I received requests for help with Scorpio men!
It was then I did something totally unique.
I knew Scorpio men can be challenging and even more challenging is to keep them interested. Many women felt a tremendous connection with their Scorpio man only to find a week or two later that he had turned icy cold. This pattern is easy to avoid, especially when you know how to deal with it.
And you'll be amazed how a few simple tweaks in your approach could make him open up like a news reporter.
This is astrology simplified for you.
Some women may express doubt, but many times I've seen those same women dropping their jaw with surprise when they finally hold their Scorpio man in their arms.
No matter how powerful this is, I know I can't consult everyone. So I have put all my step-by-step information I discuss with 1-on-1 clients into a practical, easy-to-follow guide, Scorpio Man Secrets.
In this guide I've poured the essentials of Scorpio men into a step-by-step manual.
This powerful information within reveals everything about Scorpio men, and you get what it's like to be in their shoes and how to attract them naturally, without them being suspicious about anything. And make it HIS idea of chasing you.
Would you like to gain control over your Scorpio man's heart and make him your addicted puppy?
You might be thinking, "But he is so cold and distant. I don't know how will I attract and keep him?"
The answer is simple when you resonate with him and give him what he wants. He'll happily chase you even if right now you seem incompatible.
As you know, this guide gives you an immense power to control a Scorpio man. So after a good thought I've decided NOT to share it with every woman. You MUST qualify three simple terms to access it immediately:
1) Never use this power unethically,
2) NEVER seduce or attract a married or committed Scorpio man,
3) Never manipulate a Scorpio man in a way which harms him or anyone else.
Now that you have responsibility in your hands, I invite you to try this power for yourself.
Introducing 'Scorpio Man Secrets'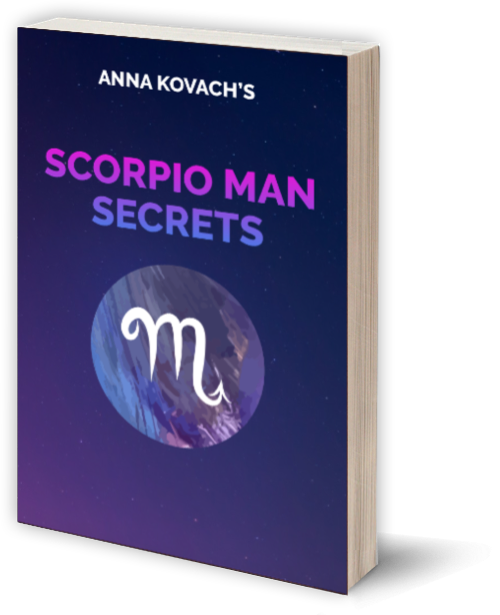 DISCLAIMER: Scorpio Man Secrets is a digital product. Image above is for visualization purposes only.
Scorpio Man Secrets is a step-by-step guide completely demystifying a Scorpio man and empowering you to have him truly capture the present with you and not thinking about someone else. Not in his head, not closing his eyes, but truly, 100% YOURS for as long as you want.
You won't find such information anywhere else, because it is a one of a kind guide. And it is way beyond what you would ordinarily read in magazines or newspapers about a Scorpio man.
It lays out a roadmap not just for his love for you, but for a deep sense of devotion to you.
It's a perfect blend of astrology, psychology and something called Sextrology.
And it works like clockwork on Scorpio men who are dating multiple women or who are afraid of commitment, or on any other regular Scorpio-next-door, to have him choose you and only you every time, every day.
For starters, here is a sneak peek inside Scorpio Man Secrets, you get:
A full psychological and astrological profile of the Scorpio man, and specifically signs of a Scorpio man in love, so you can step into his universe and really understand why he does what he does, thus making you a desirable woman in his fantasies.
Discover your zodiac compatibility with the Scorpio man so you get a birds-eye-view of the health of your relationship. This information alone can give you an immense power and an advantage so you don't have to worry about any unpredictable things snapping him away.
How to handle his dark side better than anything or anyone on this planet, and the absolute best way to resolve any bad mood. Many women push a Scorpio man away by doing the complete opposite.
Common relationship advice can push a Scorpio man away or leave him feeling manipulated which is not good if you want to keep him happy! Inside I'll show you 5 simple ways to keep him hooked on you for as long as you want.
Simple ways to make a strong Scorpio man fall hard for you. You'll get him to open up like a flower and make the first move to approach you, text you, call you, run after you and kiss you, and never ever let you go.
The best way to deal with a possessive Scorpio man and avoid sour relationships over petty things. Not many women know but you can actually use his overbearing nature to your advantage, thus giving you complete freedom in the relationship.
Surefire ways to confirm if a Scorpio man is interested in you, and signs and steps you can take if you're still off his radar so that he willingly wants to chase you.
The absolutely best ways to destroy his fear of commitment and to make him your loyal lover and make him beg you to walk down the aisle with you and only you.
Discover the Truth behind his raw Scorpio personality and what's really going on in his heart, and how to use this knowledge to make him feel that you always understand him.
See inside of his mind and read his words and actions so that you never have to worry about him pulling away from you and so you're satisfied that your relationship will be stronger and better no matter what.
Discover a hidden aspect of a Scorpio's psychology that nobody discusses, and how basic tips from magazines can backfire and put you at an unfair disadvantage over other women who are in the race to catch your Scorpio man's attention.
One common thing that turns him off and pushes him to cut you off, and why he reconsiders you as "relationship material." Discover inside how you can provide him with a deep sense of security that he craves in his soulmate.
Find out why you should stop worrying about what his text messages actually mean. You'll get secrets of communicating and texting a Scorpio to capture his attention and keep him interested like a puppy (even if he is terrible with words).
Discover inside why attracting and keeping a Scorpio man is as simple as you flipping on a few switches (and turning off other things). When you flip on certain switches you break his tough, outer shield, attracting him like a magnet, and he feels the attraction for you deep in his bones.
How to become the woman of his dreams, "The One" within just a few minutes, and how not to be seen as someone he doesn't want to be with or someone he sees just as a "Friends With Benefits (FOB)" or an "occasional date." Make it his idea to commit to you and only you.
A Scorpio man is on the top of his game-plan and constantly tests you to see if you're faking it or not… but discover inside how you can turn the tables on him without moving a finger and get him to bow down to you and only you and beg you to be his forever.
A sexually satisfied Scorpio is a happy, committed man, but he'll never fully tell you what he wants because he fears he may turn you off or lose you. But inside your guide you'll discover how you can give it ALL to him so he never takes his eyes (and hands) off of you.
Why you should NOT worry about the low scores on free online compatibility tests (they're often wrong) because the truth is that NOT being 'perfectly compatible' can be a good thing when you know how to utilize his traits to your advantage and how to build a lasting joyful relationship.
How to tap into his deep secretive nature and naturally make him feel like you're "The One" for him and NOT a "girl I'd have sex with". Inside you'll see how you can make him bend down on one knee and lay everything open for you.
Simple, easy-to-follow guide to make it his idea to settle down with you and have you be the mother of his children, without any nagging or pushing the idea down his throat.
Why you MUST gain a Scorpio man's trust first and only then lay a solid foundation of your relationship in a way so it's designed to last as long as you want, and some simple ways by which you can win a Scorpio's trust quickly and get him to think of you as "serious relationship material" without having to give an ultimatum.
How to get him sensitive enough to your needs, and the right way to do it so that he feels genuine care and love for you, not because he feels manipulated or because it's something he's "supposed" to do.
Subtle ways that make a Scorpio man feel appreciated and respected. Do it in the wrong way and he'll see through any fake plans to win him over, pushing him farther and farther away from you.
How to 'touch up' your good traits and assets to your maximum advantage and cultivate the ones your Scorpio man would absolutely desire to have in his partner (and moderate the things a Scorpio hates and pukes at…),
Iron out any communication problems or resentment a Scorpio is likely to harbor through what you, knowingly or unknowingly, do… and "speak his language" fluently and much to his pleasure.
How to quickly redeem yourself to a lost Scorpio man and his love. This works even if he's an old flame and you haven't seen each other in ages.
The best ways to handle conversation and what to say to attract him like a magnet (especially in the first few dates when things are nervous).
And much, much more…
And this is just a fraction of what you'll discover in your copy of Scorpio Man Secrets.
Now, I say it's good, but I might be biased so don't just take my word for it. See what others have to say about Scorpio Man Secrets (and you get so much more than just the original guide!).
Here's What Others Say About Scorpio Man Secrets
Sarah, 45, Aquarius
to me
"What you do to help people is amazing. Thank you. I never put too much stock in astrology because the usual description of Aquarius is so far off the mark for me- but after reading a few things on Scorpios and realizing it fit him to a T, I decided it was time to look more deeply into it. Your book is an amazingly valuable resource."
Vicki, 44, Taurus
to me
Anna, here's why I purchased. I couldn't understand why he is not vocal about his feelings...I texted him first 70% of the time and I just wanted to understand him better and not ruin a good thing. Now all I can say is Thank you Anna. I've learned a lot by having this book and it is bang on of course.
Alex, 33, Sagittarius
to me
"Thank you so much for inspiring books regarding scorpio men. Read them several times. My (potential) scorpio man is amazing... we have connected on such a deep, soul level, but the timing is awkward, difficult. I wanted to gain some insight, largely to know if I should keep going or distance myself. Your books have been really insightful. I only wish I'd read them sooner."
Hannah, 22, Virgo
to me
"Anna my scorpio boyfriend seemed distant. I am so deeply in love with him and don't want to lose him. I on the other hand do not want to make him think I am too clingy or too high maintenance either. I want him to know I am in it for the long haul. I would like to thank you for creating such a wonderful book. I have gained lot of information from reading your books."
Evangelina, 46, Capricorn
to me
"I recently dated a Scorpio and wanted more insight into this intriguing sign...The way our zodiac signs play a part in our mannerisms and personalities interests me, and understanding what actually makes a Scorpio man tick would be very helpful if I ever encounter another. I'd like to thank you for the incredible insight on the enigmatic Scorpio man. I've only recently discovered your guides and I was truly fascinated with your accuracy."
…and I receive letters like these every day.
Now obviously every relationship is different. I don't know if this will work for you nor can I guarantee it. Every relationship is unique and there are so many factors involved that require personal chart analysis.
But I DO know that this WILL help you understand your Scorpio man, communicate better, and speak his language… and if the stars are aligned on this relationship… who knows?
Either way, I hope 'Scorpio Man Secrets' proves as valuable & useful to you as it has to thousands of other couples…
The bottom line is that whether you're looking to attract a Scorpio man or you're looking to deepen your relationship with him… Scorpio Man Secrets is designed to help you at every stage of your relationship.
And that's not all, because our quest to get a Scorpio man will be incomplete if I don't tell you about sex and what a Scorpio man likes, loves and hates in bed!
How does Scorpio man see sex? How important is sex to a Scorpio man?
The answer's inside this special BONUS guide…
Introducing 'Scorpio Man Sextrology' (valued at $39.95,
yours free

)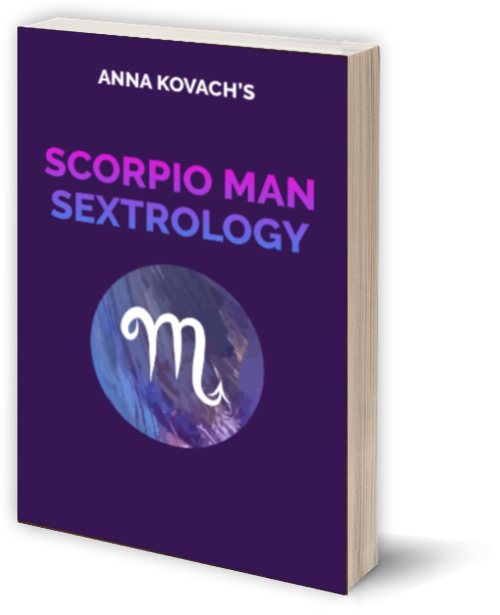 DISCLAIMER: Scorpio Man Sextrology is a digital product. Image above is for visualization purposes only.
He may never tell you his deepest desires for fear of being judged, but I'll tell you ALL about him and his deep, dirty and sometimes even dangerous desires.
And when you get this hidden aspect of his personality you'll see how easy it is to keep a Scorpio man happy for as long as you want!
Here's a glimpse of what you get inside your Scorpio Man Sextrology guide:
Step into his mind and uncover his secret fantasies and sexual desires and physical needs so that when you give what he wants, he'll never Never NEVER let you go, not even in his dreams.
Discover how compatible you really are with a Scorpio man in bed, learn about your sexual compatibility and how you can boost his desire of you simply by better understanding what truly turns your Scorpio man on in bed!
How to keep him outrageously excited in bed, and build his desires to a level where he finds it impossible to keep his hands off you, and finds his heaven in getting all tangled up with you.
How to make sure he is truly 100% present with you and only you during sex, and how to make an intense connection with him so you can get as naughty in bed as you want and thus get his complete devotion and loyalty outside the bedroom.
How to fuel his passion for you so that he doesn't think of you as "someone he had sex with" but as his soul mate that he won't let goes of at any cost.
How to tease him, without removing any clothes, to the point he can't control it anymore and has the best experience of his life.
What things you must absolutely avoid with the Scorpio man like the plague, and how long and to what extent should you get into dirty talking with him without offending him or pushing him away.
Seduction techniques that make your Scorpio man emotionally and physically addicted to you, and only you. Nothing else pleases him in these special ways as much as you can.
Which color to wear to grab his attention (no it's not red), so that he believes you're a sacred treasure, and he plays hard to get you.
And much, much more.
You'll get a full sexual compatibility chart and many more dark secrets that I can't reveal here. He'll feel that you truly understand him unlike any other woman ever has! And this is exactly what will draw him to you. These are just some of the reasons you'll find Scorpio Man Sextrology so useful and revealing. This knowledge alone makes the difference between your relationship succeeding, or never even becoming one!
Now that I've discussed everything about Scorpio men in those pages, you now know that all you need to attract and keep him is available for you to access within 5 minutes.
But before I give you access I have more bonuses for you to ensure that you get all possible and practical help to get what you want.
25 Surprises To Delight Your Scorpio Man (valued at $19.95,
yours free

)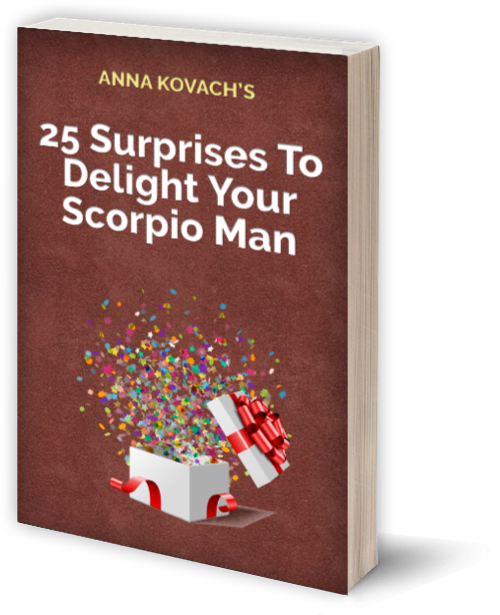 One thing Scorpio men absolutely love to have is the special attention that you can shower him with. These are the things that make him fall in love and brag about you to his friends! I want to arm you with these so you are never out of clever (and sexy) ideas that'll make your Scorpio want you as his girlfriend.
Keeping that trait in mind (Scorpio's love to feel special), I designed this guide, which will give you tailor-made ideas (which don't ask for more than a few bucks), and these ideas can get a flood of emotions and even tears rolling off his cheeks, no matter how stone cold he is!
Scorpios have their own ways to feel special and this free bonus is designed to help you nail him.
Here's a fraction of what you'll discover in this free bonus:
What gifting ideas work best for him? Get this hidden idea about a Scorpio man's personality and he'll keep your gifts close to his heart and mind, always remembering you with love.
Sure-fire ways to make him ignore the beautiful women, even those who are trying hard to get his attention and trying to steal him, so that you're in his heart and mind forever.
How to avoid being seen as pushy and turning him off by looking like an over demanding woman in your endeavors to make him feel good. This allows him to feel as if he has the control when actually you control everything.
Several romantic and memorable ideas that are dear to Scorpios. He'll never forget how well you made him feel and how delighted he was with you.
And exactly 22 more ways that will make him feel special and inspire primal love for you.
How To Get a Scorpio Man Back (valued at $19.95,
yours free

)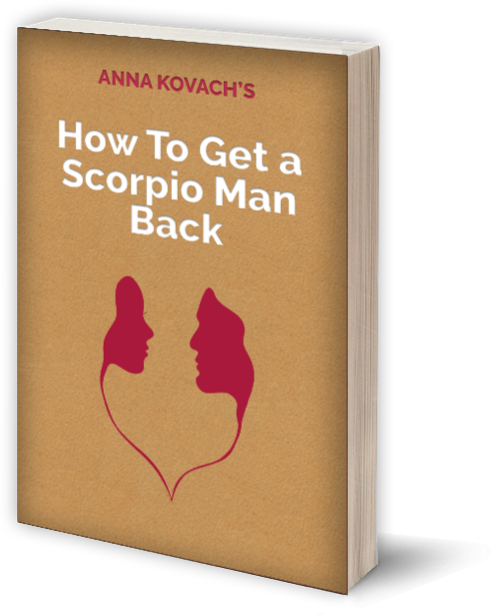 The pain of losing someone is raw and real, much like death. I've been there myself and in your grieving this free bonus can be insightful and helpful to regain your Scorpio man's lost attention (and love).
Here's some of what you'll learn inside:
How to turn the tables on him and get him thinking he made the biggest mistake of his life by walking away from you, and wondering how he can get you back.
How NOT to scare him away (as most women do), and the right ways to approach a Scorpio man so that he'll move heaven and earth to win you again.
Why the common intuitive ways can kill your chances of having him back, and why you must think outside of the box to make it HIS idea to come back and chase you.
And much, much more ways to get a Scorpio man running back for you.
How To Text a Scorpio Man (valued at $19.95,
yours free

)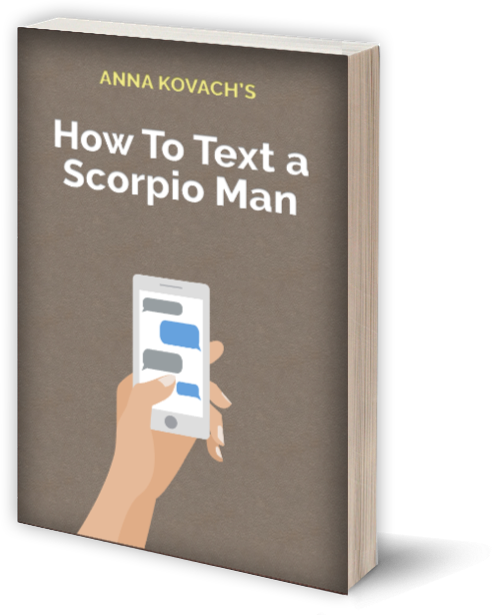 I've saved the best for the last.
You see, communication is happening all of the time, whether you say something or don't say anything, it's happening even with your eyes or the way you dress!
And these days it's so easy with messengers and emails. The thing is, most of the time, in the beginning of a relationship with your Scorpio man, you'll be sending a lot of text messages, so it's very important that you text in his language. And one of the best ways to win a Scorpio is by resonating with him!
Here's what you'll find inside:
How NOT to make a common mistake of misinterpreting his text messages and how to get the real meaning behind his texts so that you always know what is going on in his mind. Become a Scorpio texting master quickly!
Discover the best topics you can strike up in conversations that are bound to fire him up and have him open up to you with full attention even at 2 o'clock in the morning.
The best ways you can break the ice and slowly seduce him just by typing messages which tickle his inner desires.
How you can speak Scorpion's language and get straight to his heart so that you get him hooked to your texts, words and yourself — quickly.
Discover what, why, when, and how to text him, with examples. See how to interpret the meaning of his messages so that he thinks you always understand him and win a special place in his heart.
And many more Scorpio man texting gems that'll help you make him yours.
And you receive access to the complete 'Scorpio Man Secrets' program, along with all of the bonuses, within just 2 minutes when you decide to order your copy today.
But it's not over yet!
If you've continued reading until here then it means you REALLY want to get your special Scorpio man, and the reason I've developed this program is so I could reach out to women just like you and help you as much as I can. You are special and once you realize the magic held in the stars you'll realize how easy your journey can become.
The best thing is that you don't have to pay a fortune to obtain 1-on-1 services for a good astrologer like me. Instead, you could access everything at a bargain right here. You get it all at just the fraction of the cost to what 1-on-1 private clients pay me! And you get the deepest, direct look into a Scorpio man's mind, you'll have such a deep understanding of him that he's basically like an open book!
An even better thing is that your investment is completely risk-free. Yes, I absorb your risk with my no-loopholes, no questions asked, 60-day, 100% money-back guarantee! That's how confident I am you'll be absolutely blown away by the value you get in Scorpio Man Secrets.
So you have nothing to lose. Try the full program for 60 days, and if you're not satisfied for any reason, even if you don't like the text (now I'm not encouraging you to), just email me and I'll ensure every dime is refunded to you.
Here's your bold as gold 60-days 100% money back guarantee!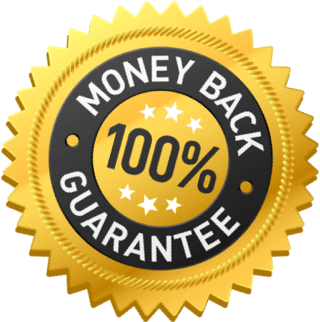 "If I'm not completely satisfied with my investment, for any reason, then within 60-days I must have my money back, without fail.
I am confident that I'll attract and keep my man with the 'Scorpio Man Secrets' program which will help me tap into the magic held in my stars."
That's my 100% money-back guarantee to you here today!
Now, you know your investment is completely risk-free, the obvious question is:
How much does it cost, Anna?
It really doesn't take much to add it to your cart…
Just take a look at what you're going to get in just 5 minutes:
Nothing shipped to you, everything can be downloaded at once (you may print a copy if you want),
Complete 'Scorpio Man Secrets' package and your roadmap to capture his heart and keep him, forever.
Step-by-step program to sneak into the back of his mind and dominate his thoughts and fantasies so he could never think about anyone else but you.
Simple techniques to make it HIS idea to chase you, and want you, without any effort from you.
Full 'Sextrology' guide with the roadmap to his 100% satisfaction and commitment, boost your sexual compatibility and make him yours and only yours — even if he's a player,
BONUS #1: '25 Surprises To Delight Your Scorpio Man' (so he treats you in very special ways from the core of his heart in return)
All the unconventional ideas and ways to steal his heart and keep him hooked for as long as you want.
FREE BONUS #2, How To Get a Scorpio Man Back (no matter how hard it may seem at first).
Techniques to make it HIS idea to naturally come back to you, without scaring him off.
FREE BONUS #3, How To Text a Scorpio Man (no matter how cold he may seem right now).
Destroy his fear of commitment and crush your competition with this special bonus that shows you how to get him from the bottom of his core.
Every new order automatically falls under the 60-days money-back guarantee (no risk at all).
This extremely valuable program is just under a dollar a day (just 79 pennies a day) when you have 60 days to use it on your Scorpio man… so you can have it all now for just a one-time investment of $47
And that's nothing compared to the value of knowing how to attract and keep your Scorpio man in love with you.
Before you go here's the final lesson: what do men find irresistibly attractive in women?
DECISIVENESS.
It's your ability to go after what you want.
And it's your time to show some because I have unlocked the doors for you.
All you have to do is click the 'Add to Cart' button below to walk through the door and download your full 'Scorpio Man Secrets' program now.
Your payment will be processed through CLICKBANK's secure checkout page (256-bit security). Enter your card details, and once you complete your purchase, you'll be directed to your special download page where you get instant access to your full Scorpio Man Secrets guide and all of the free bonuses to steal his heart away.
Scorpio Man Secrets comes in convenient PDF format, so whether you're on a computer, tablet, or smartphone, or whether it's 2 A.M. or 2 P.M., or whether you're in America, Asia or Australia, you can instantly start learning about your Scorpio man from the privacy of your home, while snuggling in your bed or sitting on your couch sipping coffee.
Now click the 'ADD TO CART' button and take advantage of your special offers and bonuses.
You Pay Only: $47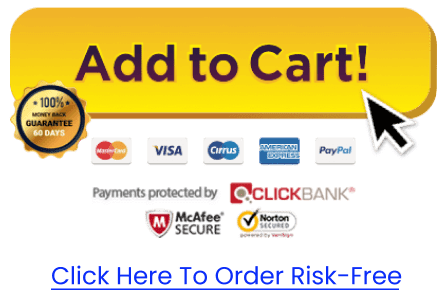 May the stars be on your side,
Your friend and relationship astrologer,

PS: If you've any question regarding the above program, please contact me at support@scorpiomansecrets.com and I (or someone from my team) will get back to you quickly.
PPS: Still undecided?
Let me help you out with two scenarios…
You know I've stacked the deck so much in your favor that you can't lose, but if you still decide to walk away from this offer, close this page and leave things to chance then chances are nothing will happen as you know our actions create our destiny.
And a few weeks from now you may regret you were so close to making it happen but you choose not to… your guy has gotten away from you, and left you to chance…
Alternatively, you can decide to take up your risk-free offer of tapping into the magic of your stars and align your fate to welcome him into your life with open hands. Here is another opportunity to get your Scorpio man for just $47 today.
Just click the 'ADD TO CART' button below. I personally promise you'll be happy you did.
You Pay Only: $47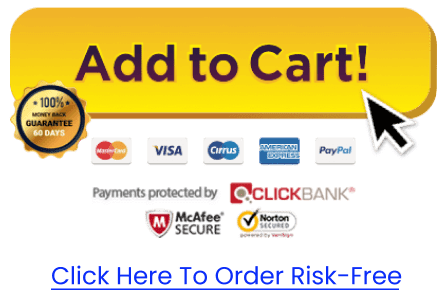 Again, I'm Anna Kovach and I can't wait to hear about your success.