The steamy Scorpio man attracts many but is more particular about what he wants. What is that exactly?
Here is some information that can help you determine if you're what the Scorpio man is looking for in a woman: 
1. Aware and Present With Him
He wants a woman who is interested in his well being, his hopes, his dreams, and his future. Finding someone who will support his endeavors and lift him up to provide him stability is what turns him on.
When you're sitting down with him and getting to know him, it's smart to lean in and really listen to him with interest. Even if you aren't actually interested, act like you are.
By doing this simple gesture, he feels you want to appreciate him for who he is and who he wants. This will allow for the two of you to pull together easier and can build a foundation.
He will want you to share your dreams with him as well. This isn't one-sided. He prefers a woman who is driven and going after her own goals. He will show you the same respect for being present and backing you up.
2. Lots of Questions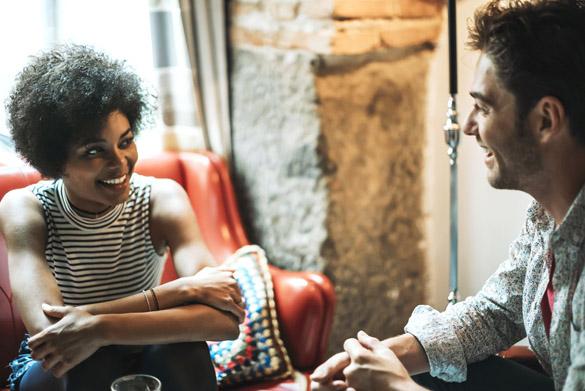 The Scorpio man will ask you lots of questions to get to know you if he finds you interesting enough. He doesn't ask as much as a Virgo but still. it's enough that makes you a bit dizzy.
He uses the same tactic of asking things that get to know the heart of who you really are, what you want, and what your deepest desires in life are so that he can find out if you align with his own.
He will ask questions that are more to the point of what it is he wants. Meaning, if he wants a woman who is powerful, he'll want to ask how much clout you have. If he wants a wife at home type, he'll ask what your values are about family.
He is a bit more focused than what Virgo men will ask you. He isn't trying to remember details like the Virgo. He's just trying to see where you're the head is at and what you want.
3. Going with the Flow
One of the many things that a Scorpio man needs and wants in his life is a woman who can stay calm and go with the flow. This means that when you don't like something he does or says; you calmly discuss it.
It also means he wants you to give him the benefit of the doubt. Try not to be too rigid in your thought process or actions. He wants to be understood and appreciated for what he can provide you.
A Scorpio man's passion is genuinely hot and tasty. He is also moody sometimes which can make it hard to deal with him. He needs a calm and stable woman that can put up with his outbursts.
If you're strong, soothing, and can take it as it comes; you'll win the Scorpio's heart over fairly easily. He loves sensuality but he also loves to feel as though the woman he loves can provide him with security.
4. He really Wants Your Devotion
This guy may not act like it at times because he likes to show his cool and tempered side. However, the Scorpio man wants the woman he's into to prove to him that she's going to stay by his side.
He is the jealous and possessive type so he requires a woman who will not raise any suspicion in his heart. He doesn't want to be played with. He wants loyalty and honor to reside in his relationship.
I know it's confusing at times when he's back and forth in his moods but if you can prove to him you're not going anywhere, he will go to the moon and back for your love and admiration.
This also means that when he feels insecure; he requires the woman he loves to reassure him that everything is going to be ok. He will not do well with flaky types of women or women that will easily leave him when he has a temper tantrum.
5. Sexual Appetites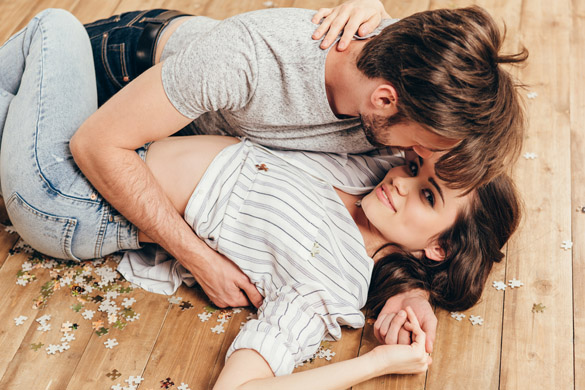 The Scorpio man has a high libido and wants to have sex rather often. He requires a woman who can keep up with him and want him every bit as much as he wants her.
To really please him, wear some dark colored lingerie (black and red preferable). He is really turned on by this and will let his deepest passions out to give you the most pleasure you've ever experienced.
He loves to see the pleasure on your face and will do whatever it takes to see that look. He seems to know what to do, how to touch you, and how to make you quiver with anticipation or pleasure.
He is one that does appreciate quantity along with quality. He figures, why not have both? If you're ready to be taken to heights you never imagined in the bedroom then the Scorpio man is for you.
6. Wit and Sense of Humor
This guy is typically intelligent and wants a partner who can match him in this way. Showing him that you've got some sass in you will make him be more lured to your ways.
Laugh at his jokes. Even better, you can tell him jokes of your own to make him laugh. He really loves for a woman to tell him a good dirty joke. Give it a try. He's really into smart and funny women.
He has some high standards but perhaps not as nitpicky as a Virgo. He does know what he wants though and will settle for nothing less. Be prepared in figuring out all his desires. 
I hope this helps shed some light on what types of things the Scorpio man wants in a woman.
What do you think is the Scorpio man looking for in a woman?
Click here to unravel more interesting things about the mysterious Scorpio man.
Wishing you all the luck of the universe,
Your friend and Relationship Astrologer,
Anna Kovach