Are you interested in a Scorpio man that makes you quiver but aren't sure if you're his cup of tea? Does he give hints but still you're not sure? What Does Scorpio man look for in a woman?
I have some things for you to read that just may help you figure things out. Here are some pointers that may help you decide what Scorpio men need from a woman:
6 Qualities Scorpio Man Want in a Woman
1. Warm and Inviting
What Scorpio men need from a woman is someone who is open and kind. This would be the type of woman that would randomly make him lunch or cookies one day and bring it to him at work.
Another example would be if he invites friends over to watch football, you make a bunch of yummy munchies for everyone to enjoy. I'm not saying he's expecting you to do this but if you did to it; he would swoon over you.
While he does like a woman who is also a spitfire, he wants sweetness and understanding when it comes to him or others he cares for. Your gentle touch and kiss will send him to heaven.
Honestly, he wants a woman who will make a wonderful wife and an amazing mother to his possible future children. That means he wants to be sure that you're going to be tender and sensitive to his needs.
2. A Stand-up Woman with Spunk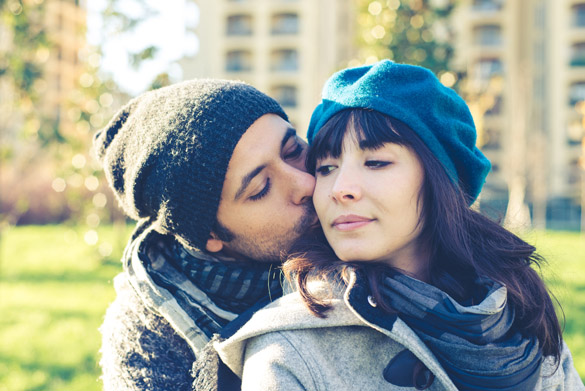 As I mentioned, he appreciates the warm tenderness the right woman will provide. However, he will also want you to at times, to stand up for what you believe is right.
If you don't agree with something he's said or something someone else has said, speak up. Your fire is one of the qualities he'll find most appealing. It's not that he wants you to bicker with him always.
It's more that he doesn't like women who are pushovers. Doormat types of women will not be what he's looking for. Be kind, loving, and warm but be sure to speak up when you don't see eye to eye.
This actually will make you seem more emotionally balanced which is a beautiful thing to a Scorpio man. Speak your mind but don't make it such a habit that it becomes a bit like nagging. That could go south very quickly.
3. Words of Encouragement
The Scorpio men need from a woman a mate who will get back up his dreams and desires in life. He tends to be down on himself or feel discouraged which means he'll need you to boost him back up.
He'll need you to be his rock, someone that will be the sound of reason when he's unreasonable about himself. He is a hard worker and career oriented, but he needs someone to give him positive reinforcement.
Tell him how well he's doing, how well he will do, and that what he does will make a difference for the better in your lives together. Let him know that you see that he's giving it his all.
When he's not; you can sweetly suggest something he can try to get after it in a different way he hadn't thought of. Don't push it though because he never wants to be told what to do.
4. Be Different By Being Yourself
Scorpio men like women who are different from all the other women around. He loves unique women that want things that everyone else isn't mainly into. If you're the type to go against the grain; let him see it!
Though you may think you're weird or an outcast; he will see you as intriguing and likely want to be around you. Why be like everyone else when you can be yourself instead.
The more authentic you are around your Scorpio guy, the better off you are. Following the crowd will be more of a turn off to him. So don't be afraid to let your freak flag fly!
Be original, be yourself, and don't be afraid to show him your true colors. Scorpio men need from a woman someone who is comfortable around him. Being yourself shows him that you trust him and he'll value that.
I can honestly tell you that Scorpio men do not like women who are doormats or who do not stand up to him. Be sure you don't let him get away with important things.
If he teases you or makes fun of you for whatever reason, do it back to him! He'll actually appreciate that you can take it and that you can also dish it out.
5. What Do Scorpio Men Like? Stand By His Side!
Ultimately, Scorpio men want from a woman someone who will be at his side always. No matter if times are good or times are hard. You'll still be there for him and backing him up when he needs it.
If he's going to be King, he wants to have his Queen. You two against the world is the way he wants it. You're his dance partner, his woman, his partner, his co-conspirator, his rock, and his reason for being the man he is.
Be the salt to his pepper, the creamer in his coffee, the cake to his sweet tooth. He's looking for a woman who will be his best friend for life and stand up for him when he needs it.
When he feels hurt or sad, you're the one that is there to listen and help him through it. He'll gladly return the favor should you be the one that needs the help that his love can provide.
Do not ever try to be like everyone else. It's tempting to want to fall in with the crowd but if you do, Scorpio man won't notice you. What Scorpio man wants is to have a woman who is a black sheep in society.
In other words, don't try to be what you think he wants. Be who you are. If he falls for you when you're being you then you'll be far better off. Scorpio man will know if you're not being you.
His ability to have great empathy will tell him if your heart is true or if you're up to no good. Trust in that. Being disingenuous will get you walking papers from Scorpio's life. Stay open and true to who you are.
6. Straight Moral Compass
The Scorpio man wants a woman with high integrity and shared moral values. He typically has a particular set of his own. It's likely he'll want someone who shares similar values.
To fully know what he is, you'll need to get to know him a bit better. He'll reveal these things in time. It's always important to talk about everything you can so that you two are on the same page.
If you want to get to know more about what your Scorpio guy may need, click here. If you find that you do indeed share the same values in life; you may very well have your match.
Be the right person, be loving, be moral, be sexy, be inviting, be charming but also be independent, witty, and wise. It may sound like a great list but if you've got most if not all these qualities; you may be the perfect fit for the Scorpio man.
Scorpio man looks for a woman who has manners and acts like a lady when she's out in public. Arguing with others, being loud, or being pessimistic is not at all what he likes.
He prefers a lady who is very sweet, compassionate, friendly, and able to blend in no matter what crowd of people she's with. You should be optimistic and able to be open to other ideas.
Whatever you do, don't get involved with any gossip of any sort. He really despises that type of woman. He is a private person and he expects his lady to also be discreet and not interested in here say.
Conclusion, What Does A Scorpio Man Want In A Woman?
What do Scorpio men want in a woman? They have a list of qualities they for sure follow. They also follow their own intuition and feelings.
I've given you some of the top things that describe what a Scorpio man wants. Now you've got to see if you've got what it takes and can show him that you're the woman for him.
If you're clever, sexy, independent, classy, and are strong with your moral compass then you just may be the woman for Scorpio. You could be his dream woman!
Speaking of dream, did you know that Ryan Gosling, star of "The Notebook" is a Scorpio man? It all makes sense now, doesn't it?!
I hope that this article helps you figure out if you're headed in the right direction or are the Scorpio guy's match. You deserve the best!
If you're ready to dive deeper and start your journey to unconditional love with your Scorpio man, you can purchase Scorpio Man Secrets here.
What do you think Scorpio men need from a woman? Did you reel one in? Tell me how you got him!
Share your story (or situation) with our community in the comment section below (don't worry, it's anonymous).
Wishing you all the luck of the universe
Your friend and Relationship Astrologer,
Anna Kovach
---
---