Are you dating a Scorpio man but haven't gotten intimate with him? Perhaps you're wondering what it is that you can do to give him the ultimate pleasurable experience in bed.
Here is some important information to help you find Scorpio man's erogenous zones:
Simplicity for You
There is no real mystery when it comes to where the Scorpio man's erogenous zones are. He is super simple when it comes to what to get him going on. Before I get to that, let me explain some other things that get him "started".
You can go for the glory but it would be more fun to play with him a bit so that he'll get so worked up, he'll take you like a caveman. One of the first things you can do is to talk dirty to him.
Remember that this guy is very cerebral and so that means if you give him things to think about you can turn him on without laying a finger on him. This works especially well if you have a date on Friday but it's only Monday.
Throughout the week you can tease and tantalize him via phone call or via text. Give him naughty things to think about such as what you want to do to him or what you'll be wearing.
Give him really sexy images in his mind by what you're telling him. If you know him well enough, you may already know what he's into. If you don't, that's great place to start, ask him.
Get Him Revved Up!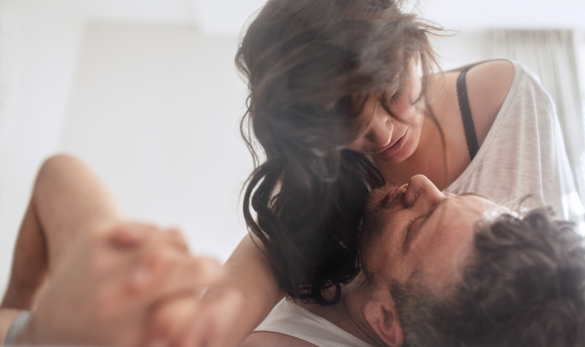 As I mentioned, one of the Scorpio man's erogenous zones is mental stimulation. It will get the prep work done. He is intellectual above all else and that means that you can start to prepare him for what is to come.
Be careful though because he's good at giving just as good as he gets. You may find yourself a bit hot and bothered. That's not a bad thing. The two of you can actually explode together when it's time.
In fact, it would be more of a turn on to him if you get turned on yourself and tell him about it. Tell him not to cheat by taking care of himself. Tell him he has to wait until your date night.
You can even incorporate things like telling him you're going to give him a spanking if you find out he's touched himself without you. He will really dig this. Normally, you cannot tell a Scorpio what to do but this is acceptable.
Set the Mood
This may be tricky because he likes to be the one in charge much of the time. However, if you're able to coax him into coming to your place or meeting at a hotel room; you'll be able to prep ahead of time.
Burn some scented candles or oils that smell really enticing. Get his favorite beverage such as wine, beer, or whatever it is he likes. Have it handy as you're both going to work up a thirst.
You can even go so far as to put rose petals all over the bed. The more romantic you make the scene, the better all of this will play out. Make sure you're wearing some sexy lingerie.
Some men aren't big fans of lingerie but he definitely IS a fan of it. In fact, he's the type of guy that will buy you the lingerie he wants to see on you. With that in mind, he prefers dark colors like black or red.
Maybe you can find something that combines both colors. Stockings with a garter belt will be preferred if you can pull it off and of course some high heels. This is the sexiest thing for a Scorpio guy.
He wants to do you while you still have the stockings and heels on. Be prepared as he's going to rock your world. Oh, and if you can wear a strand of pearls, that will really send him over the edge.
Getting Down and Dirty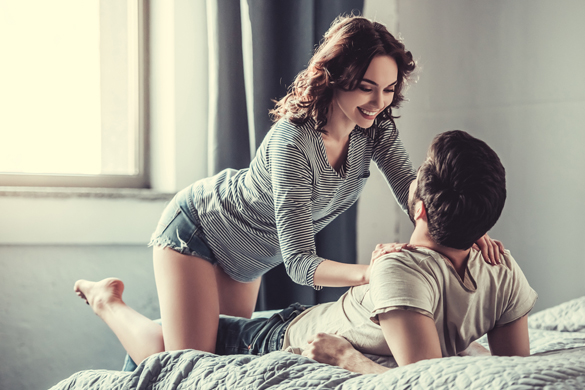 So now we finally get him to bed and what happens? Showtime! There will be lots of kissing, touching, licking, and stroking. If you really want to give him the best orgasm possible, you'll pay lots of attention to his genitals.
THAT is his erogenous zone. It's pretty straightforward. This is why it's an amazing idea to turn him on even before the date. It will get him going mentally so that when it's time, he'll absolutely get the most out of the situation.
Trust me when I tell you that whatever you do for him and with him, he'll definitely make sure that you get exactly what it is that you want as well. If you know the Scorpio man's erogenous zone, he will give you the most pleasurable experience you've ever had.
He will do the work to figure out what it is that you like and he'll do plenty of it. It's not uncommon for a Scorpio man to want to give his lady multiple orgasms. He absolutely loves oral sex.
He loves to take and he loves to give. If you've never enjoyed it before, he'll change that for you. Its well worth all the effort you put into the occasion. He doesn't need all the frills but if you give them to him, he'll be blown away.
If you manage to find out the Scorpio man's erogenous zones, it's very likely that he'll see you as the most romantic and considerate partner he's ever been with and that of course, can only be in your favor right? You want him to so awestruck that he wants to continue being with you.
He's Easy to Please
It's not at all hard to please him and find a Scorpio man's erogenous zones. He's easy to read, you know now what his erogenous zone is and how to get him worked up beforehand. This is one of the less complicated guys sexually.
Get to know him, get to know his preferences and let him know yours. The more you talk, the better things are and the more you both get what you want out of the relationship or just out of sex.
Conclusion
I hope this helps you have the best sex you've ever had. Scorpio is the master at what he does!
What do you think? What are the Scorpio man's erogenous zones? Learn more about this sex God here and what makes him tick.
Share your story (or situation) with our community in the comment section below (don't worry, it's anonymous).
Wishing you all the luck of the universe
Your friend and Relationship Astrologer,
Anna Kovach
---
---