Have you had a falling out with your Scorpio guy and now want him back to work things out? He's temperamental so it may or may not work but; here are some tips that may help you learn how to get a Scorpio man back into your life.
Show Him Success!
Above all else, Scorpio men want to see a successful woman. If the two of you ended and you're trying to get him to pay attention to you again, you're going to have to become shiny and valuable.
As ambitious as he is himself; he has to see his partner or potential partner striving for excellence. When he doesn't see it, he's more inclined to bail out and not look back.
When you're apart and the break up wasn't too horrible, he'll still likely be able to be friends with you. As such, you will probably still talk to him from time to time. Over time you're going to need to step it up with your career or life path.
Showing him that you don't need him to become all that you can be will likely turn him on. He'll want to possibly be back in your life when he realizes that he isn't needed.
Also if there is a field that you're involved in that may benefit him; he may suck up to you in order for you to introduce him to people who will help him move on up in his own career pursuit.
Be a dominant, powerful, and successful woman in whatever it is that you do. Elevate your social media status and be all that you can be, it's a good way to get your Scorpio man back. He may not be able to help himself in reaching out to you.
Positive and Outgoing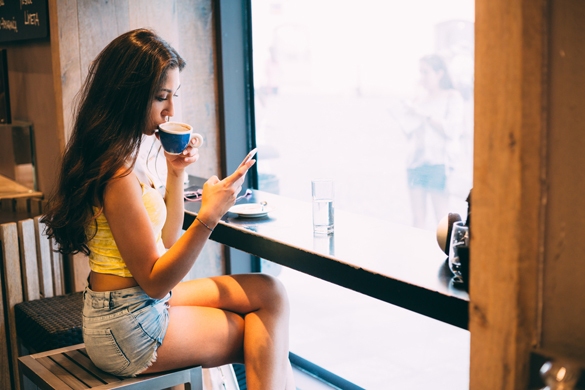 Aside from being a super successful woman, you'll need to make sure you remain positive. Optimism will be more of a turn on to him than being negative. He wants to dream with the right person rather than worry.
Keep an upbeat personality will ensure him to also remain more positive. In fact; you may help him melt away his own worries. Lead by example so that he will feel hopeful about the future.
Scorpio men look for stability and security. When he's with a partner that complains often or shows too much emotion, it shows him that there is too much drama for his liking. If you want to get your Scorpio man back, don't be a drama queen.
He wants positive vibes along with the stability of a woman who knows how to control her emotions. In this way, he's rather like a Gemini man. He can't handle emotional upheaval.
If you have a hard time holding it together, you can always try to learn techniques to help you center yourself better. Whether or not you're trying to get him back; this is a useful tool for you and your well being.
Own Up To Your Role
Whether you were completely at fault or only part of the overall issue that caused the break, you need to accept your role in the parting of ways. Apologizing for what happened will make him consider opening back up. Be sincere and you may get your Scorpio man back.
You'll have to make sure that you dedicate time and energy into trying to work on whatever it was that caused things to end in the first place. If it was emotional; you can apply what I mentioned earlier in the article to manage your emotions.
As long as he knows you're working on your side of things; he may feel more at ease in giving it another try. He may or may not admit his own fault but as long as agreement and compromise are there; there is hope.
Whatever you do; don't try the tit for tat method. Getting revenge to get his attention will not go well. You'll end up more hurt and alone. Scorpio men do tend to want revenge when they feel wronged.
The last thing you want is for him to get back at you by hurting you more. Again, this will have to do with emotional control. Get hold of yourself and be reasonable so that he remains calm.
————-> Click here to find out more about Scorpio man
Focus On The New
If you're able to establish stable communication with your Scorpio guy, don't look back. If you bring up the past, you may lose him. He really doesn't like going backward. So avoiding this might get your Scorpio man back.
Try to focus on positive things you two can talk about or do together. Lifting him up with your own positive energy will stimulate his desire to be proactive in general.
Find some new things that you both enjoy that you can share together. It may be a stepping stone for forging a brand new bond that perhaps didn't exist. Much like Gemini; he will want to start new rather than start over.
The way he sees it is if you go back to what was; things won't change for the better. It's much better to start fresh with new attitudes and goals. Positive energy, meditation, and the ability to see hope will help you both.
Be sensitive to whatever it is that he may be feeling. He doesn't like to share his emotions much so when he does; recognize what he's going through and try to be a bit more empathetic.
The more you can relate or at least sympathize; the easier he'll feel he can communicate with you. Both of you opening up and having meaningful conversations will help you two set romantic goals.
Nice and Easy
If you two haven't been speaking much; it may be best to cut back on the texting or messaging via social media. Take it slow and send simple messages that don't feel heavy.
Saying things like "hey you! Hope you're doing well. "Thinking of you" is plenty. You'll find out real quick if he's up for it or if he doesn't want more. He'll reply to you if he still cares.
Scorpio men are stubborn creatures, but I do have a few tools to help you understand him better, here.
When he continues to ice you out; he may be over you or ready to move on. Just be careful what you say to him and don't pressure him. If you do this, you will get your Scorpio man back.
How do you get your Scorpio man back?
Your friend and relationship astrologer,
Anna Kovach