There is a wonderful initial meeting of minds when a deep Scorpio man encounters a focused Virgo woman as the two of them are both complex signs with much more in common than you may think.
Here is everything you need to know on how Scorpio man and Virgo woman are compatible and how your planets work together:
Scorpio Man Virgo Woman Chemistry
Neither earth sign Virgo, nor water sign Scorpio enjoy flightiness or superficial expression.
They both seek a relationship that is based on a strong commitment and unquestionable loyalty, but when it comes to romance Virgo is much more restrained than Scorpio and may find a Scorpio man's highly demonstrative style a bit much to handle.
Both Virgo and Scorpio are essentially introspective creatures. Although their essential natures are compatible, with a common need to dissect facts and get to the bottom of any matter, Virgo's passions are all in the head while Scorpio is all about the physical expression of love.
Both of them are concerned with financial security, family bonds, and efficiency although you may have different ideas about the best ways to achieve your goals.
Virgo women tend to be more restrained when it comes to expressing their feelings and their self-sufficient world is challenged by the way Scorpio fearlessly charges into the depths of any situation.
Virgo's reticence to express emotion may make Scorpio feel that Virgo is too timid to achieve the depths of desire and love that a Scorpio man seeks in a long-term relationship.
The Virgo Woman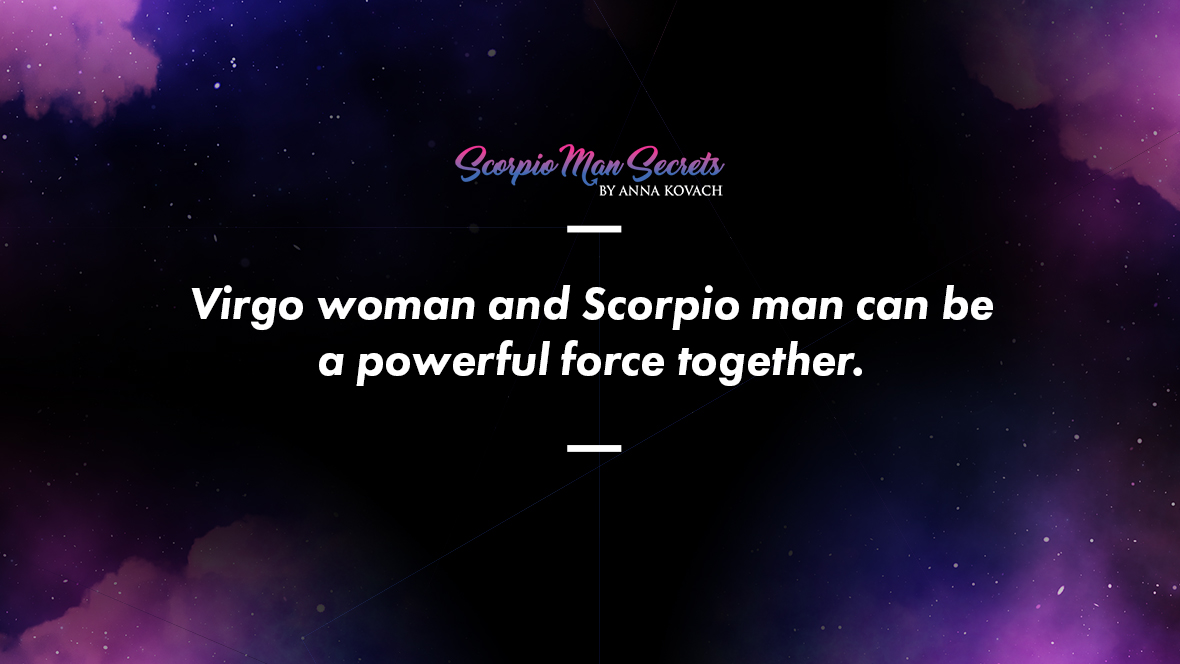 The Virgo woman is an intellectual creature ruled by Mercury whose domain is communication and the intellect.
Virgo women are at their best when they are completely self-sufficient and direct their energies into a productive life that helps others and makes the world a better place.
The stereotype of a neurotic neat and orderly Virgo is a distraction from the real talents of this earthy sign, who is prepared to do the detailed and hard work that others avoid.
Adaptable Virgo works well with Scorpio's vision, and if they form a team, Virgo and Scorpio can be a powerful force together.
Virgo's greatest challenge is dealing with messy or uncomfortable emotions. Anything that cannot be dealt with intellectually makes her uncomfortable.
A Scorpio man will challenge this and help Virgo make friends with her feelings, and her loyalty will be greatly appreciated by the suspicious Scorpio man.
The Scorpio Man
Scorpio men are famously intense and because they are ruled by Pluto, the planet of death and transformation, they tend to go fearlessly into realms that others avoid or fear.
Nothing is too strange, too difficult or too complicated for a Scorpio man, whose deep and profound mindset loves to delve into the unknown.
When it comes to relationships, a Scorpio man seeks a profound meeting of souls and bodies that are all or nothing.
Virgo women are able to match this intensity so they make very good, stabilizing partners for moody and demanding Scorpio men, who are capable of being extremely loving when they feel safe.
Loyalty and honesty are very important to Scorpio, and the men of this sign can become maliciously jealous if they suspect a partner does not respect their privacy or commitment to another person.
Although they are very clear about their wants and needs, Scorpio men can struggle to define clear boundaries and Virgo can help with this.
What works in Your Relationship
Scorpio man and Virgo woman can make a great match because there are many hidden similarities in how these two signs approach to love and romance.
Virgo is more comfortable with sex and physical love than most signs are, and will adapt to Scorpio's powerful sex drive.
A Virgo woman's loyalty will give the suspicious Scorpio mind some peace and Scorpio will match Virgo's relentless love of facts and thrill her finely-tuned mind with new information and ideas.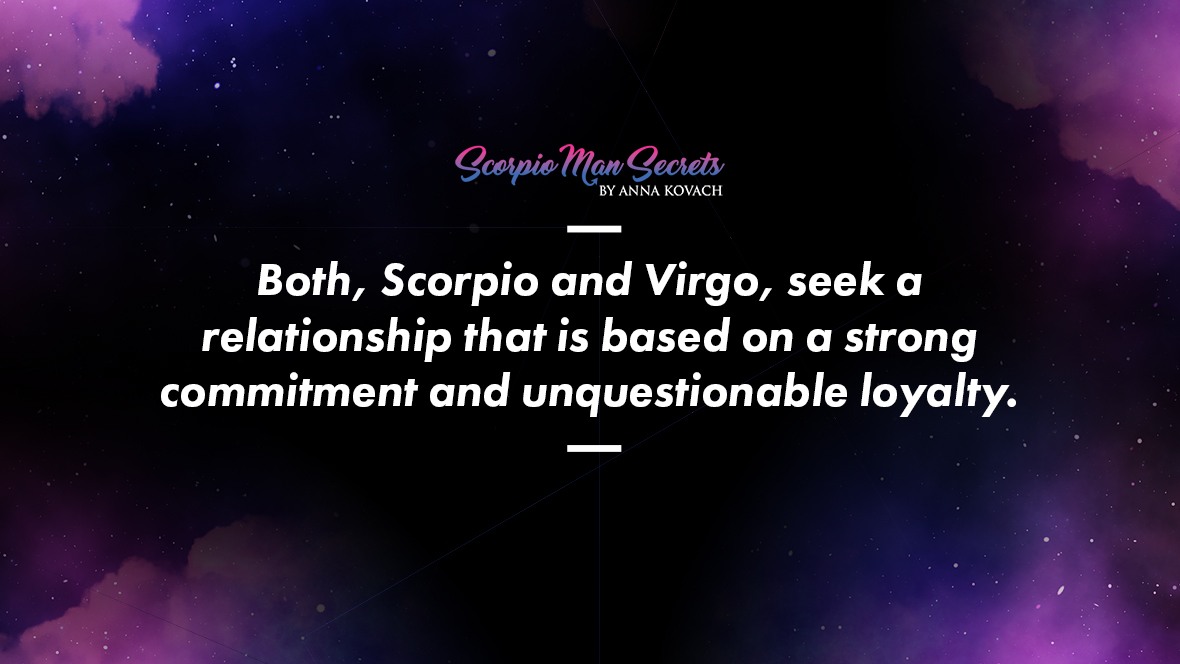 What to Watch For
Virgo woman can retreat from intimacy if she allows herself to feel intimidated by the excesses eroticism of a Scorpio man, whose flair for emotional drama proves to be more than Virgo bargained for.
Where Virgo is adaptable, Scorpio is stubborn and unyielding. This can cause conflict if there is a clash of principles.
Virgo has a minimalist approach to emotions and likes to keep her hands clean, whereas Scorpio is less squeamish and has an approach that Virgo may find excessive, unsophisticated and even primitive.
The Score…
The differences between Virgo and Scorpio are matters of style rather than substance and the compatible elements that are much greater than any small differences in approach.
The chances for marriage and long term commitment are high in this combination because both Virgo and Scorpio want the same things from love and life.
If these two signs manage to compromise when conflict appears, they can form a deep and lasting bond.
If you need some more information on how two of you are compatible, then take my compatibility quiz here.
If you're ready to understand more about how compatible are Scorpio man and Virgo woman, check out my brand new Scorpio Man and Virgo Woman Love Compatibility Guide, and if you want to catch him and keep him click here to learn more about Scorpio Man Secrets.
Share your story (or situation) with our community in the comment section below (don't worry, it's anonymous).
Are Scorpio man and Virgo woman a match? What do you think?
Wishing you all the luck of the universe
Your friend and Relationship Astrologer,
Anna Kovach
---
---