Are you finding yourself interested in a scrumptious Scorpio man and wondering what types of things you can say to him to get his attention? You're in luck! Here are some key things that Scorpio men love to hear.
Give Him Compliments
Scorpio men love to hear compliments on their appearance. He works hard to look as sultry as he does. He has a natural glow that he was born with but he'll always till try to look his best. It shows!
Tell him how hot he looks, how beautiful his eyes are, or how enchanting his smile is. He'll eat it right up. It will be very hard for him to resist compliments on this. You can even talk about his style or fashion.
Stroke his ego and often. It will put you in his "let's keep her" list. It may even push you to the front of the line and win him over entirely. Give it a shot and see how it goes.
Every man likes to feel confident in who they are and of course, that's helpful when you have a woman who is willing to boost that confidence up with and for you.
Talk about Your Dreams in Life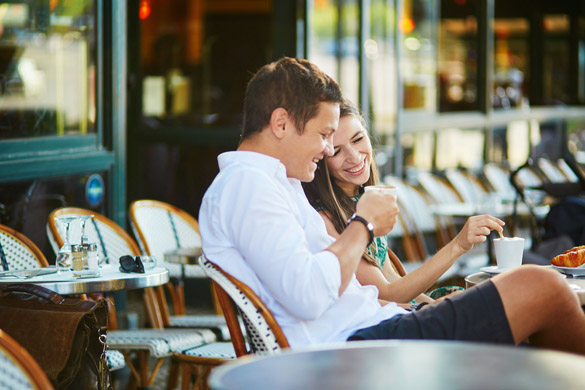 One of the things that turn a Scorpio man on is you talking about what you want to achieve in life. Scorpio men love a woman who is ambitious and trying to forge forward toward success.
He's all about getting after that sweet nectar of success himself so to hear you talk about yours will definitely get his attention. He loves intelligence and the willpower to achieve one's goals.
When you do this; try not to talk about yourself too much because then he'll start to feel as though it's all about you and nothing about himself. Find a nice balance and then ask him questions.
He'll be happy to share his own goals with you if you're up for discussing them. This is the type of conversation that gets his motor running because it speaks to the deepest recess of his creativity.
Talk About Common Traits
When you're getting to know the Scorpio man, ask him what he loves in life, ask him what turns him on, ask him what his favorites are, etc. You can share what yours are and point out the things you have in common.
It's better if you point out commonalities than differences. When you point out differences, it brings the mood down and may make him think you're not compatible enough.
Be careful and try to highlight the strengths of what could be between you with the things that you see eye to eye on. Talk about life values and integrity. You can talk about how you were raised as a child.
You can talk about what you ultimately want for the future and what you believe is best for it. If he doesn't volunteer his own information; ask him what it is he wants and believes.
Talk About Your Adventures
This is another topic that you'll want to approach but try not to overdo it. The idea is to let him know you're independent and have adventures without the need of a man.
So talk about trips you've made with friends or alone. Talk about the things you really love to do as in hobbies, crafts, traveling or whatever it is that you really are into in life.
Every now and then stop and ask him questions. If you've been to Switzerland; ask him if he's ever been or would ever want to go. See what I mean? You're making it a two-way street while telling him how fun you are.
It's also good to let him know that you are an individual that doesn't NEED him. This will make him feel more confident about you and what type of relationship you can have.
He isn't into clingy or needy women. The more you let him know that you're not this way, it will help you get to him easier and help the two of you grow something solid for the future.
Talk About Your Friends & Family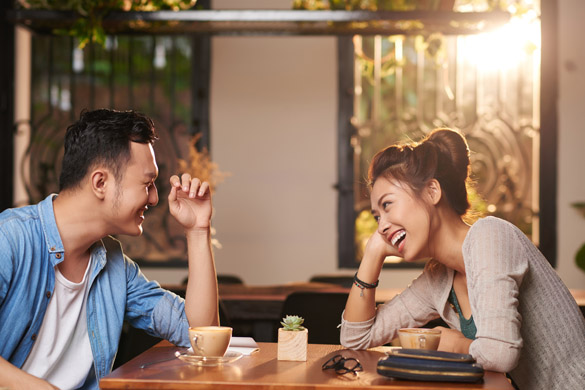 Scorpio men love to hear about family and is looking for a wife and future mother for his children. Family is important to him. When you talk about your own family and/or close friends; he will see who you really are with them.
Seeing how you feel about them and how close you are or maybe not, he'll get to know you a bit more. I wouldn't tell him everything though as if you do that he'll get bored and feel he knows all he needs to.
Just like with the other topics, you'll want to ask him questions after you've talked about your family. Ask him how many siblings he has, how he was raised, and how he wants to raise his kids when he has some.
Flirt With Him!
Aside from complimenting him, the Scorpio man wants to flirt. Go for it! If you can throw in a sexual innuendo in there, you're golden. He is a very sexual man and he needs to know if you are a sexual person as well.
There is nothing more of a turn off than trying to get to know someone who is a bit of a prude. He'd rather put a fork in his eyeball than be with someone who isn't into sex.
You don't need to go overboard with it. Just light flirtation will do the trick. Just letting him know you're into him and are very much drawn to him will allow him to open up with you.
Conclusion
I hope that this article helps you achieve greatness and success with your Scorpio man.
If you still feel like you maybe need some more understanding, click here to find out pertinent information about the Scorpio man.  Figuring him out can help you achieve the best results.
Share your story (or situation) with our community in the comment section below (don't worry, it's anonymous).
What do you think Scorpio men love to hear?
Wishing you all the luck of the universe
Your friend and Relationship Astrologer,
Anna Kovach
---
---