Things You Can Do To Get Your Scorpio Man Excited!
Are you ready to kick the heat up a notch with your Scorpio man? I definitely have some amazing things to share with you. 
Keep reading so that you can learn the seven ways to spice up your love life with Scorpio man and keep him excited! 
7 Ways To Spice Up Your Love Life With Scorpio Man
1. Talk Dirty To Him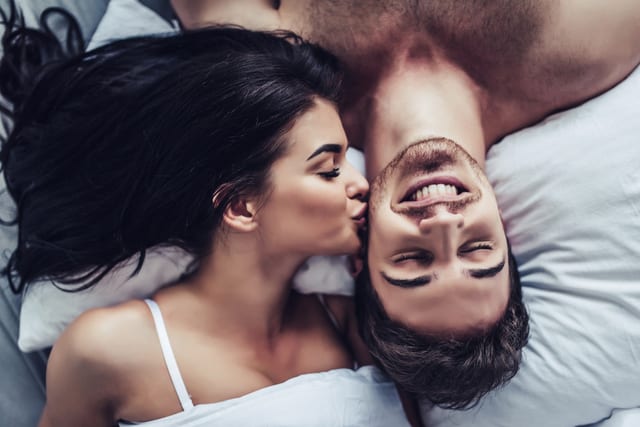 The Scorpio man is quite intelligent and really loves being with a woman who is riveting when she speaks. That being said, you really need to get his engine revving with your words!
There is a wide range of topics to choose from, but since you're trying to make things sizzle with your Scorpio man, you need to pick things that will get his attention. 
One of the things you can do is talk dirty to him. Do it randomly, because he'll get a total kick out of it. You can do this via text or video chat. 
The idea is to build up tension and passion. This is especially fantastic if he's working. You can call him and tell him how sexy he is and how much you want him, "right now!"
Tell him what you'd like to do to him or what you'd like your Scorpio man to do to you, more specifically. 
He wants details that make him excited and looking forward to the next time he's with you. Scorpio men love sexy talk. Try whispering in his ear when you two are together again.
Say something like, "you really turn me on, I love how you caress my breasts, and stroke my thigh like that." Use your own words obviously but let him know how much it makes you hot!
It doesn't matter if you've only been with him for a couple weeks or many years. The Scorpio man is excited by sexual stimulation through words. 
Take your pick; whisper hot things in to his ear or try sexting with him. He will really get a kick out of that! Sexting with a Scorpio man is fun and erotic!
2. Enjoy Porn Together
Scorpio men have a very high libido. Just like most guys, they like looking at porn or dirty magazines. They also like to read erotic material. 
My suggestion to you is to browse online together at different types and styles of porn, erotic comics, or other erotic material. It's more fun and exciting to do it as one.
It lets him know that you're open for fun and are definitely up for keeping things spicy between you. Try something new!
I know sometimes you get stuck in the "norm," but in order to keep the fire burning in your Scorpio man, you've got to keep those briquettes ablaze!
When you read erotic stories or watch the porn, make sure that you read it to him in a very sexy tone and perhaps while you're masturbating. This will drive him wild! He won't know what to do with himself.
The good news is, he will know what to do to you while you're reading. No, I am not kidding! He wants to see if you can continue to read while he's going down on your or kissing your thighs. 
This will add all the pepper you need into your Scorpio man salad. He loves fantasy. You can even do this playing a video game. Have him play something while you go down on him and see his excitement! 
3. Eye Contact Keeps Intimacy Together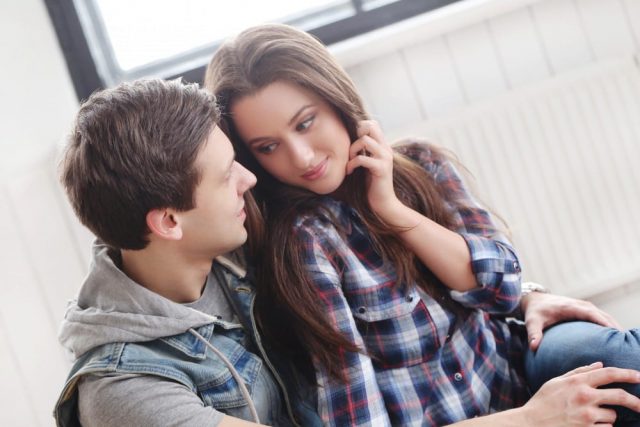 Your Scorpio guy wants to feel you in every way that he can. To do that, he wants to stare deeply into your eyes. If he isn't doing that then it's a red flag for you. 
Scorpio men will typically look at you in the eye when they're making love to you or even just making out with you. They are looking into your soul to make sure that they're connecting. 
No matter what sexual position you happen to be in, if you're facing each other at all, stare him in the eyes. Even when you're down on your knees looking up at him, he will absolutely lose his mind in a good way!
This will especially excite him if you've never done it that way before. He'll feel very excited and any notion of things becoming routine will fade away for him. That's what you want! 
4. Dominate In The Bedroom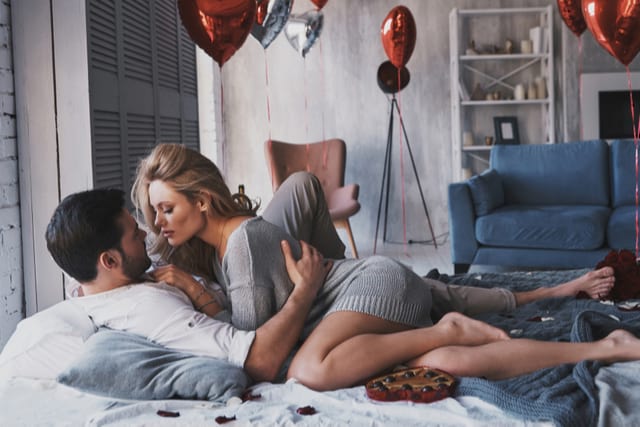 You need to take control sometimes in the bedroom. Call the shots! Tell him what to do and how to do it. Believe it or not, this alone will turn him on like you wouldn't believe.
Tie his hands up or his feet (or both!). Unless he's terrified of doing so, he will allow you to do this and sit back relaxed. He wants to see what you can do or what you're willing to do.
A whip always makes things a bit kinky too. If you haven't tried one, you really should. It will make him quiver in excitement. The art of teasing him is the best route.
You never want to dive right into intercourse, no. You want to drag it out and make it linger so that by the time you both orgasm, it will be the most erotic thing you have both experienced.
How is that for spicing things up in your Scorpio man relationship? Obviously, this isn't something you want to do every single time because then even that becomes routine and will lose its exciting luster.
Try doing this once or twice a month. You can implement different toys, different positions, or dirty talk. Keeping things feeling fresh and new keep your Scorpio man excited with you. 
5. Metaphysical Ways To Satisfaction
Many people don't think of this one and I think it's something that should be brought up more often. Did you know there are actually workshops for spiritual sex?
When your souls are connected through sex, it makes you closer to each other. It really does make things exciting, fresh, and new. It also makes it really fulfilling.
There are things such as Tantric sex which is done through meditating with each other while being in a sexual or sensual position. There is plenty of information available online to become familiar with this, along with courses and books. 
If you two are brave, you can go attend a work shop as it will help you meet other people and discuss things you may learn. Also the act of learning together will be a turn on. 
Get the Kama Sutra book! There are loads of different positions you can try, what they mean, and what they help you achieve. This is one of the best ways to spice up your love life with Scorpio man.
6. Dress For The Occasion
You definitely will want to wear things that appeal to the Scorpio man's senses. He loves lacy garter belts with stockings above the knee. 
He loves black and red the most. There is something sensual and dangerous about those two colors. It makes him feel he's being naughty, which turns him on more.
High heels will add the icing on the cake. Catch him off guard one day and answer the door in lingerie or keep it covered up under a trench coat so that when he comes in, you can ask him to take your coat.
He'll be so flushed with lust when he sees you that he may not wait to see what else you've got in store. Then again, he may want the teasing to commence and will be patiently turned on. 
Wear racy scents such as musk or earth tones. It makes him want to dive into you. You can also dress up in cosplay outfits or just simple costumes. He will go crazy with you in a very good way. 
Read next: 5 Turn-Offs That Make a Good Scorpio Man Leave a Great Woman
7. Play Sex Games
I mentioned cosplay outfits but truly, if you get into character and do things to him, he'll be completely floored. Get a nurse outfit and play it out. Take his temperature, give him a cool compress, and check his heart.
Ask him where it hurts and see what he tells you. It's all about role playing and making sure you both spontaneously go along with it. This is something that can be different every time.
You can also try playing literal sex games as well. Strip poker is always a favorite! Each time someone loses, they lose an article of clothing. Once you both have no clothes, you go in for kissing, nibbling, or licking.
There are other games such as "dirty dice" which will allow you two to roll and then it will tell you what to do to your partner such as "kiss on the lips" or on other places. 
Make it new, fresh, and spicy. Your Scorpio man will be so turned on by you that he'll want more. Be ready for how much his libido rises. A happy Scorpio man in the bedroom makes for a happy Scorpio man in life. 
Now that you seven ways to spice things up your love life with Scorpio man, you can begin getting closer!
Is there a method you used that worked really well that I did not mention? I'd love to hear all about it! 
Share your story (or situation) with our community in the comment section below (don't worry, it's anonymous).
And if you are feeling like you need some additional guidance with your Scorpio man, then why not check out my VIP consultation service. I will be able to answer all of your questions and guide you with personal, one-on-one advice that will give you clarity in love and in life. There are just a few slots still open, so don't hesitate!
Wishing you all the luck of the universe
Your friend and Relationship Astrologer,
Anna Kovach