Are you interested in dating a HOT Scorpio guy?
Well, good luck!
Luck?
Luck won't help you much with this guy. He's a special kind, and you know it.
A Scorpio man can be very confusing, stubborn and may often seem impossible to read.
But now there is a way to make him fall head over heels in love with you…
(or at least help you get to catch his interest). Stop guessing, and start figuring him out, for real.
I've got some good news for you! I've decided to give you my FREE Guide to learning all about Him. And this works even if your signs don't seem perfectly compatible!
It already helped over 5,000 women like you "decode" their Scorpio guy and gave their relationship a fighting chance. It's all about making him feel like you "get" him (because you do).
So here's what you get in this FREE Scorpio Man Guide (Beginner's guide to being in love with a Scorpio guy)…
30 Dirty Little Secrets About Your Scorpio Man: This is a 33-page little guide telling you the ins and outs of dating a Scorpio guy. It's all the stuff he desires but is afraid to say to you.
Here's the guide: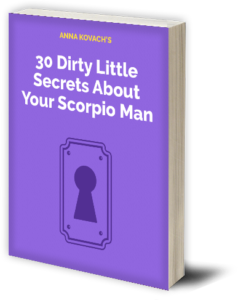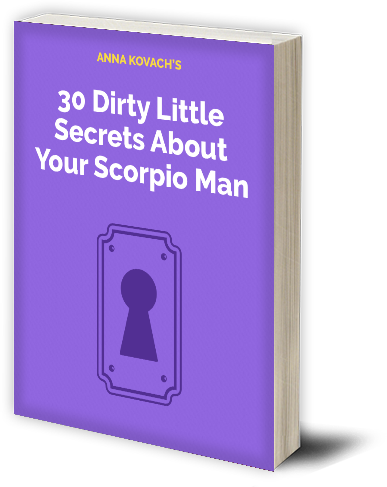 This is what you get immediately upon signing up (no strings attached). Inside this little guide you'll discover:
The REAL reason why a Scorpio man seems cold and distant (and what you can do about it),
Everything you need to know, so he feels that you truly "get" him,
THE BIGGEST mistake you can make with a Scorpio man… and how you can avoid it,
The TRUTH about what's going on in his head…how he thinks, feels, and acts — and what it means (his behavior, decoded for you),
What PULLS a Scorpio man so close… and makes him stay. This works regardless of your looks or anything else (and few women understand this about him),
And much, much more about winning his heart.
But wait! There's more…
Next, you'll get a series of lessons (via email) for 30 days. It's like a complete training, about what goes on when you date a Scorpio guy, from start to finish.
Regardless of your current relationship situation: whether he's just a crush, a coworker, an ex, or you've been married for years… you'll discover more about him than you knew before.
Here's what we'll talk about inside your Free 30-Day Scorpio man Guide…
The five signs a Scorpio guy is falling for you,
13 Things to watch out for (and know) before dating a Scorpio guy (and what it usually feels like to date him),
Why a Scorpio man is sometimes scared of falling in love (and commitment),
How to get a Scorpio guy to tell you how he feels about you,
Is a Scorpio guy able to establish a deep connection with a woman (and how and when),
Can you be friends with benefits with a Scorpio guy (or is that a bad idea…),
What a Scorpio man Likes and Dislikes in a woman,
Are Scorpio men womanizers? (and what's the right way to cope),
How to tell if he's interested (or just acting friendly and teasing you),
How to react when a Scorpio man is ignoring you (so you don't push him away),
What makes a Scorpio guy WANT to say with you (and see you as "relationship material"),
Five things that Annoy a Scorpio guy (avoid these if you don't want to scare him away),
How do you get a closed Scorpio guy to open up (easier than you think),
How do you get him to stop pulling away every time things get more serious,
Are Scorpio men cheaters (and how to prevent it),
Long distance troubles with a Scorpio guy (and how to keep your love strong, despite the distance),
How to approach your Scorpio crush?
Going on a date with a Scorpio guy (things you should know),
Should you chase a Scorpio guy (or "pull him in" with your energy),
How to get a Scorpio guy to say "I love you,"
Long-term Scorpio boyfriend doesn't propose? (what you can do),
Can you get a Scorpio guy to commit? (hint: yes, here are the basics),
The "Secret obsession" that makes Scorpio men fall in love,
How to be "Naughty" (without feeling dirty),
And much, much more about the Scorpio man you like!
Thousands of women have completed this Guide and improved their Relationship with their Scorpio guy — now it's your turn!
Yes, I know this sounds crazy, but you get this whole package 100% Free of charge. I want to help as many fellow women as possible as I know how confusing and frustrating things can get with a Scorpio. Also — I believe we all deserve the relationship we want, and a chance for that shouldn't cost you a penny. There are no strings attached. And I know that if you enjoy my advice, as have many others, you can always purchase my more Advanced stuff later.
How do you sign up?
It's simple. Just enter your First Name and Best Email in the form below. And I'll immediately rush you your "30 Dirty Little Secrets About Your Scorpio Man" right after you register. So you can start learning 5 minutes from now. The rest of the lessons you'll get chunk by chunk, one lesson per day for 30 days.
Enter your First name and email in the form below.
*You'll receive a confirmation email (that you'll need to open and click the link inside to verify your address). Once you confirm, you get instant access to your Free membership.
I am looking forward to seeing you inside!
Your Friend and Relationship Astrologer,
Anna Kovach
---
---