Are you a woman who is desperately in love and wonder what a Scorpio man as a father's like? Perhaps you're married and planning to become pregnant and would like a heads up.
Whatever the case may be, here is some information for you about Scorpio man as a father.
The Power of Motivation
The Scorpio as a father will want to raise his children to understand the value of getting things done and never being lazy. It's not in him to not succeed or at least keep trying.
He will pass these traits to his offspring. It's likely he'll encourage them to get involved in many different activities throughout their childhood. This will be a rewarding experience for them and teach them valuable lessons.
It's not unlikely he'll show them via example. He's often involved in many things himself in order to find the best track to success. Even when he is sitting still, he's thinking about what he can do next.
By using these traits, the children will likely never become bored. They'll also cultivate skills by being social in their activities.
As babies, he will cuddle them up but he won't tolerate bad behavior. He begins to teach them boundaries and right from wrong at an early age. He can be a bit ironclad in his beliefs.
Your role as a mother will be significant as you'll need to be the soft and warm figure that the children turn to when they're feeling emotional.
Leadership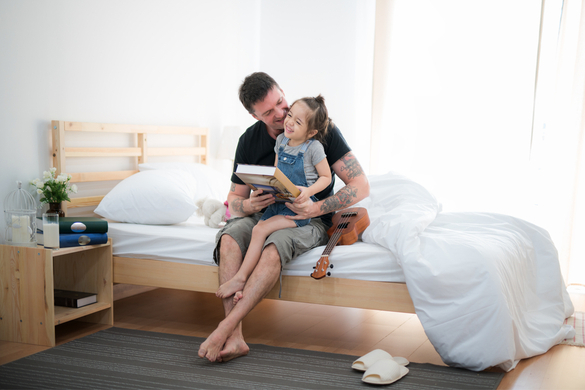 Scorpio man as a father is typically the leader type and as such; he'll be able to show his offspring how to be this way. They aren't likely to grow up and be followers except when it comes to rules.
Scorpio can be a real stickler when it comes to house rules. He will definitely be one for dealing out consequences when the children break the rules. He thinks it's important to understand their role and to learn from their mistakes.
It's highly likely that even though the kids find dad to be a bit harsh sometimes; they will learn what respect is and how important it is in life. They will probably look up to him as an authoritative figure.
Even when they get mad at him when they calm down, they'll look at the logic and understand that dad was right in his line of thinking.
Strict and Emotional
Scorpio man as a father is already an emotionally driven person. He may not want anyone to know how he feels but it should be pretty obvious by observing his actions.
If he doesn't talk but gives off a vibe; you can read it. The kids will also come to learn dad's behavior and will know what mood he is in at any given time. They will know when he's mad or in a bad mood thus learning to avoid him.
They will also be able to tell when he's in a great mood and will gravitate toward him for love and reassurance from this strong guy. There may be some problems though when he reacts to something they do.
In fact; he may overreact to something they've done. He will for an instant forget that they are children that are still learning and will react by snapping at them or trying to discipline them without thinking it through.
This is where you as a mother, will be necessary. You'll have to grab him and talk to him on the side to make sure he's a bit calmer before he delivers the children's karma for their actions.
You will already be used to helping keep him balanced as his wife. When the children are born, it will be the same thing while raising them. You will need to put your delicate touch in place.
It would be an excellent idea for you two to sit down and plan how you want to raise your children. Decide who will deliver consequences, who will enforce rules, and who will keep them in line.
Scorpio man as a father can be good at this but he may go overboard so he'll need to learn to take it down a notch. If you decide to be the disciplinarian; you'll have to understand that he may not like how you handle it sometimes.
This will be a battle between you. However; if you talk about it before you even have the children; you create a foundation of how things should be and will be once you do have them.
A Possessive Stance
Just as Scorpio man can be jealous and possessive with you as his partner, he can be this way with the children as well. He may not want to let them out of his sight for too long.
When they get older and start spending time with friends or even dating; he'll sometimes express displeasure or disapproval of who they are spending their time with. This is often just his possessive side though.
He means well but he doesn't realize that he has to let them be free to fly in their own wind. Naturally as his partner in life and in child rearing; you'll have to remind him of this.
He very much reminds me of the dad that awaits his daughter's date with a shotgun in hand to warn him he better not hurt his princess. If you have ever seen movies with that scene, you know what I'm talking about.
That would be a Scorpio man for sure! He will be just as protective of his sons too. Scorpio doesn't want them hurt or marred for life. He will stay on his sons to make sure they don't have unprotected sex either.
Conclusion
This is where Scorpio man is a great father. He will teach them the basics of life and will instill in them, the ability to know what is right and what isn't. That includes not having babies until they are older.
It may be helpful for you to learn as much as you can about the Scorpio man as a father. Click here for some more details on him.
Share your story (or situation) with our community in the comment section below (don't worry, it's anonymous).
What do you think of Scorpio man as a father?
Wishing you all the luck of the universe!
Your friend and Relationship Astrologer,
Anna Kovach