The troubled match between a Scorpio man and Leo woman is one that will be marked by excessive passion and flared emotions at best, and protracted conflict at worst. This steamy and highly erotic attraction between fiery Leo and watery Scorpio is never going to be boring but it will challenge both of them and will need a lot of work to last beyond a quick affair.
Scorpio Man and Leo Woman Chemistry
A strong and dominating Leo woman has an ego that Scorpio won't flatter in the way she expects and where Scorpio seeks a deeply private and soulful connection in relationships, Leo wants a grand romance that plays out in public displays of grandeur.
A big cause of conflict will be Scorpio's dark and brooding bouts of silent treatment and insane jealousy. Leo is a jealous sign and likes to be in control, so Scorpio is going to be pushed to extreme behavior. When confronted with a possessive and needy lover, Leo shows no compassion and responds with angry displays.
This match is a short fuse that burns out quickly unless you both commit to doing some very hard work at changing how you respond to challenges and conflict. Your initial bond may feel fated, and both of you might feel doomed but this relationship could mature into a lifelong bond, but both of you need to show more maturity and approach each other with great sensitivity and respect.
The Leo Woman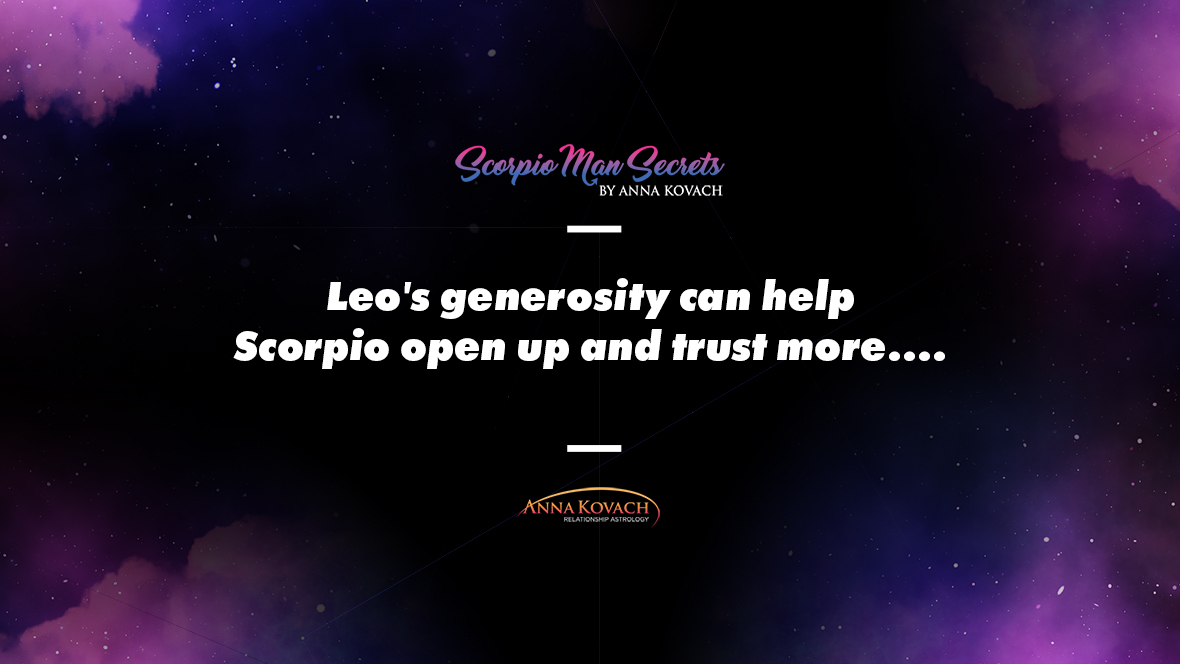 On the surface, a female lion is supremely confident and self-assured, but all that attention you seek betrays a deep sense of insecurity that is enhanced by your need for attention and constant affirmation.
Leo woman feels bound to be strong and self-reliant especially when you are at your weakest, and this doesn't do your closest relationships any good at all.
Under the surface of all that bravado, you are a childlike soul with crazy ideals who could experience the love she craves in the arms of a passionate Scorpio man if only you would drop the pretense and the ego games and admit that you love being possessed.
Ruled by the sun, you like to see the world around you in shades of black and white, and you are uncomfortable that falls in the gray areas. Learn to accept that nothing is cut and dried and that you are often your own worst enemy and then open yourself to love.
The Scorpio Man
Water sign Scorpio injects a lot of emotion and drama into any relationship and this man is one of the most jealous and rage-prone lovers in the zodiac. Scorpio men bond in love with an intensity that can scare other signs away, and when they feel hurt or betrayed they can fight it out until the relationship is burned to the ground.
The truth is important to Scorpio but this man's complicated head can understand that there are always many truths to any given situation. Even he is stuck in a mode of thinking where you are either for him or against him, so any lover who wants to make the most of his sensitive and passionate skills in bed will have to first convince him that she is on his side and has his back.
Gaining the trust of a Scorpio man is difficult enough but making sure you never betray him is next to impossible. You need to have a sense of humor and a lot of patience to build a solid and workable relationship with him, but if you make the effort you will be richly rewarded.
What Works in Your Relationship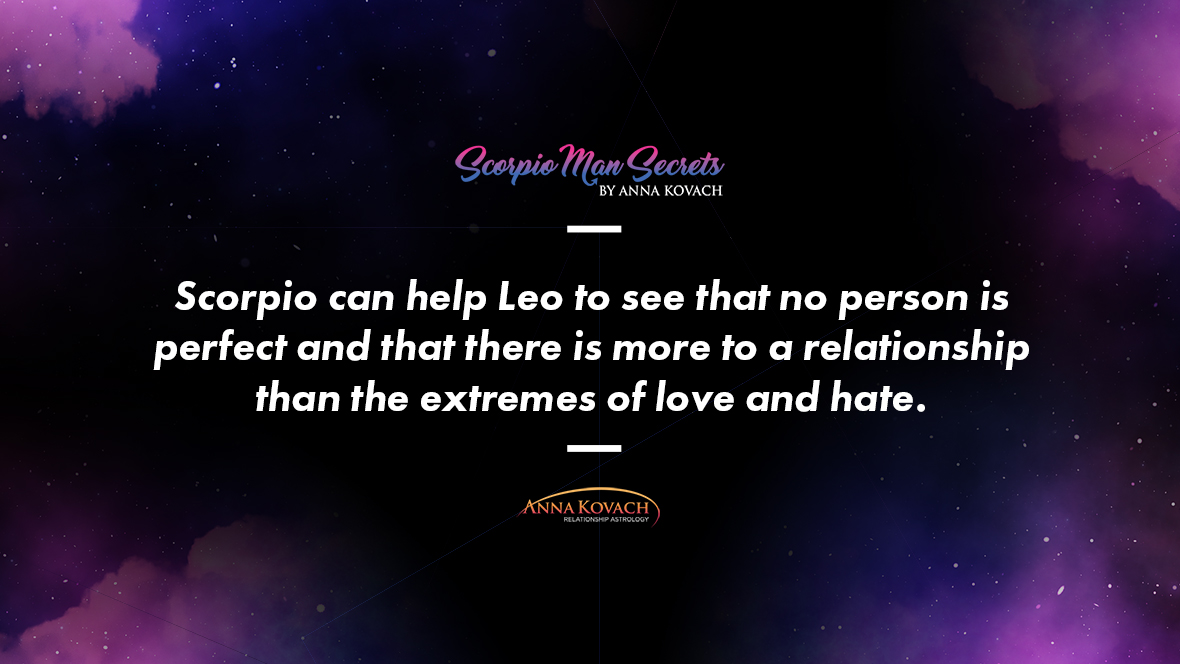 Scorpio man and Leo woman are both very well defined personalities and you will be impressed by the strength and sheer force of will you see in the other. When passion flares up between you the sense of conquest and challenge will be irresistible to both parties.
Leo's generosity can help Scorpio open up and trust more and Scorpio can help Leo to see that no person is perfect and that there is more to a relationship than the extremes of love and hate.
You may well feel that you have met your match, and as long as you cultivate a healthy respect for how you are different, you could be pleasantly surprised by true that turns out to be.
What to Watch For 
Scorpio is made for intense, monogamous and deeply emotional bonds whereas loyal Leo is more balanced and less inclined to think about love too much.
There is likely to be a strong, almost overpowering physical attraction between water sign Scorpio and fire sign Leo, but you both have very strong wills that are bound to clash.
The conflict between you will be tiring and destructive as you are both easy to provoke and neither of you is very good at keeping your explosive tempers in check.
The Score…
Extravagant and majestic Leo wants great displays of love and wealth whereas practical Scorpio is more secretive and mysterious and this man cannot excessive gestures or waste of any kind.
Reaching any form of mutually agreed compromise is always going to be an issue as neither of you wants to back down, so learn to compromise or walk away while you are still able to walk.
If you need some more information on how two of you are compatible, then take my compatibility quiz here.
If you're ready to understand more about how compatible are Scorpio man and Leo woman, check out my brand new Scorpio Man and Leo Woman Love Compatibility Guide, and if you want to catch him and keep him click here to learn more about Scorpio Man Secrets.
Share your story (or situation) with our community in the comment section below (don't worry, it's anonymous).
Are Scorpio man and Leo woman a match? What do you think?
Wishing you all the luck of the universe
Your friend and Relationship Astrologer,
Anna Kovach
---
---