When you are trying to get closer to a Scorpio man and secure a long-term relationship, then you definitely want it to be a healthy one, right? Of course, you want that!
I have some information I'd like to share with you that just may help you to finally score a healthy relationship with a Scorpio man. If you're game, then please keep reading!
Communication With A Scorpio Man
Just as in any relationship, you're not going to get very far if you don't open up to your Scorpio man about what your desires are in a relationship. Tell him what your needs and wants are.
Ask him what his are as well. You two have to be on the same page, or at least very close. Once you do open up this door, you two have to keep talking to one another.
He's not always open with his feelings or thoughts so don't be surprised if he doesn't offer things up right away. This is something you have to get out of him over time.
Don't get frustrated with him. You don't need to keep bombarding him with questions either. Dating a Scorpio man can be mysterious, which is the way it should be. Knowing everything about someone can make the love boring.
A Scorpio man doesn't like being bored, so don't let that happen. The communication with Scorpio man needs to be truthful and honest. Just try not to push everything at the same time.
Excellent communication comes with time and practice. If you really want to keep your Scorpio man in a healthy relationship for the long haul, you've got to do this right! Take your time.
Give Your Scorpio Man Romance!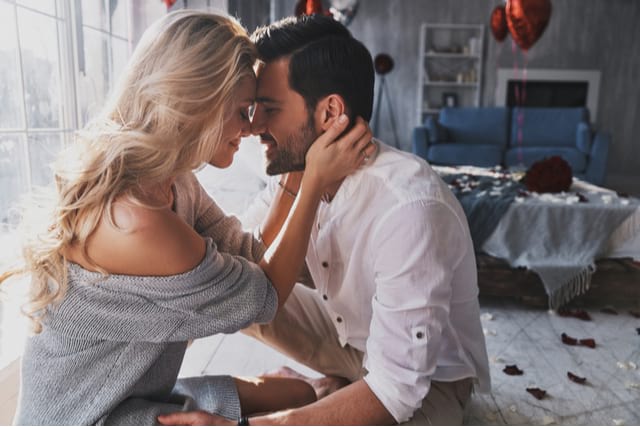 Scorpio men respond well to romantic advances. I'm not saying you should hurry into bed together if you haven't done it yet. What I am saying is for you to do things for him that are sweet and somewhat seductive.
Cook him a nice dinner and dress up for him. Wear a red or a black dress. He will have a hard time keeping himself composed!
The thing about romance is that you've got to do this periodically to keep things interesting and exciting. Surprise him with dressing alluring and showing appreciation for him.
Scorpio men love sex and passion, so if you're already having sex with him, spice things up a bit. Try something new! He will be so happy you're experimental with him.
This is very much part of a healthy relationship with a Scorpio man. Miss this and it may be hard to keep up with him!
Here's a good one… ask him to go with you to a sex shop. Tell him it will be fun. When you get there ask his opinions on toys or what he would like to try. You'll be surprised how much he loves this!
Whatever you do, don't ever let your relationship become boring or routine. He will resent that and decide you aren't really in love with him anymore. Once the love fades, he won't be connected to you anymore.
To keep it healthy, keep this aspect of your relationship in a good space.
The Proper Ways To Deal With Conflicts Or Problems With A Scorpio Man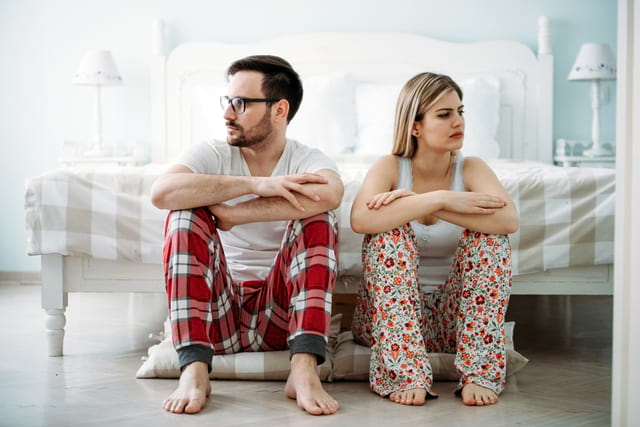 Yes, there are better ways than others to deal with your relationship when the two of you aren't getting along. Maybe there are problems that are presented to you both as a couple. Now, what will you do?
First, let's talk about what happens when conflict arises between you both. He is giving you the silent treatment. He may be very angry with you or hurt by something you said.
You cannot let this keep going, otherwise, it will lead you to the end. To avoid this, you will have to address the issue at hand whether he's silent or not. Tell him that you're sorry for your side of it but you two need to find a solution.
Explain to him that for things to work, you two need to meet halfway with whatever you are disagreeing about. If there is a strong feeling about the conflict then it's definitely important to find a way.
To have a healthy relationship with a Scorpio man, you have to be very sure that you two aren't bottling things up and ignoring warning signs. Be open and work through it.
If he isn't listening to you or not responding to texts, calls, or attempts to get him to talk, you will have to do this another way. Again, apologize for the conflict and tell him you love him enough to work through this.
That should be all that is needed to get him to open up and start talking again. You can text it or say it to him, face to face. Whichever you have access to do, go for it.
He's not going to listen to you if you do not fess up to your part in the disagreement or fight. Your Scorpio man needs to know that you understand him.
The thing that I need to point out here is that you need to have respect for each other. Be considerate. Think from his side of the conflict. How would he feel if you say a certain thing?
How would you feel if he said it to you? That often helps you to avoid saying the wrong things.
With other problems that appear for you both such as unexpected bills, family issues, or other things that can come out of the blue for a couple, you both need to try to keep a calm head.
It may feel stressful for you both but you need to sit down and calmly discuss it. There may be a solution that can help the two of you. Consulting with a professional is never a bad idea!
Approaching everything thrown at the two of you together, you will solve problems better and cultivate a healthy, long-lasting relationship with your Scorpio man.
Learn Your Scorpio Man's Moods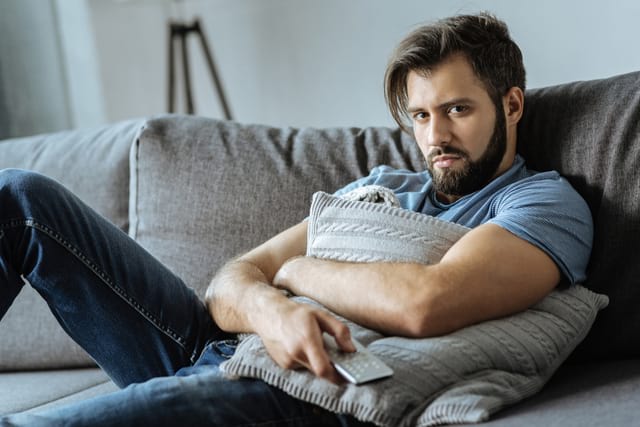 As long as you can identify what is going on with your Scorpio man at any point in time, you will absolutely fortify a healthy relationship with a Scorpio man.
You've got to watch him, know what mood he's in and why. I know this sounds like a lot of work, but trust me when I tell you that if you want this relationship to last, you'll be willing to do whatever it takes.
When you understand him, he will be so grateful. You'll know how to act accordingly. You'll know when to leave him alone, when to offer up your shoulder, and when to actually approach him with soothing words.
Just be sure you never approach his bad moods with a bad attitude of your own. That clashing will cause the two of you to forget about your love and possibly birth resentments.
Be very careful with your Scorpio man, as well as with yourself. Don't neglect yourself by worrying about his needs all the time. He still wants you to be independent.
He wants you to do your own thing and become a huge success with whatever you do. Take care of yourself. Go get your hair done or your nails. He will appreciate the efforts you put into your beauty.
Don't ignore your feelings. You're allowed to have feelings just like anyone else. You're allowed to have your own "moods" but you will have to find a way to allow for your relationship with a Scorpio man to work.
When you're really upset, talk to a friend or go for a run. Whatever helps you decompress will be good to do before you go and chat with your Scorpio lover.
Always do your best to approach him with a calm attitude. He'll appreciate that and be far more responsive to you. Want a healthy relationship with a Scorpio man? Take heed to what I'm telling you!
One Last Thing About Your Scorpio Man…
Always show your Scorpio guy how much you care about him. Call him up randomly and ask him how he's feeling or how work is going.
He needs to know that you DO care about what is happening with him.
Even if you live together, you should send him a text to have a good day or something sweet and inspirational.
Remember that a Scorpio man does want a woman who inspires him with her optimism.
It takes a very special lady to win and keep a Scorpio man's heart.
If you follow the things I've shared with you, you will succeed.
I have even more to share with you if you're up for it!
Learn more about how to make your Scorpio man want you forever…
Click here right now to learn some secrets that you need to know!<<
This guide will help you to stoke that fire within your Scorpio man and make him want you more than anyone else.
It will make him want to commit and keep you forever and always.
It's very exciting to make a Scorpio man want you, and it doesn't hurt to have the secrets of how to do this!
Get that mojo going with your Scorpio guy now by clicking here! <<
As always, I wish you all the luck in the Universe!
Your friend and Relationship Astrologer,
Anna Kovach
---
---