January is a slightly tricky month to win over the single Scorpio. This is because they're feeling very independent, self-sovereign, and content within their own life and being. Scorpio is arguably the most intense sign of the Zodiac; intuitive, soulful, deep and ambitious, this sign is fixed in nature and doesn't play games when it comes to love. But, there are some things you can do to win him over and spark his interest!
Let's look at them now.
How To Attract A Scorpio Man In January 2021
1. Project Yourself As An Independent And Self-Authoritative Woman
This could go last to amplify all the other points, but we've decided to put it first to emphasize how important this is. The Scorpio is resourceful, ambitious, and intelligent. He's perceptive, intuitive and sincere. 
So, he is only looking for the real deal this month and year. He won't be dropping his guard for anybody; he really is looking for his soulmate and life-long partner. This guy has had a lot of flings and love affairs! 
It would take nothing short of an absolute Goddess and Queen to make him want to open up romantically and sexually to you. He's gotten used to his solitude and independence; he's had so many sexual encounters that instant gratification doesn't do it for him anymore. He's also got self-respect. On the one hand, this makes him utterly irresistible and gorgeous. But where does this leave you?
It means that you have to act like you don't care. Project the image that you're so self-empowered and sovereign – content and happy in your own life and self-autonomy – that you don't need him. He would just be an option anyway. Someone you could 'potentially' have something amazing and magical with, but it doesn't affect your life at all, in any way, shape or form.
Quite simply, cultivate confidence, self-esteem and inner happiness in their most optimum. Be all of these things. And don't even dream about being superficial or trying to play hard to get to make him want you. He sees right through it, thus making you look desperate and fake (instead of empowered and independent).
2. Purity And Soul Are Essential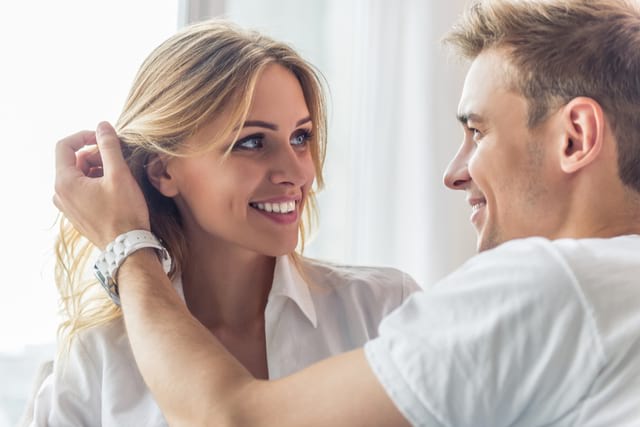 Because he is so independent and inspired this month, you will need to connect on a pure and spiritual level to spark his interest. You may already be familiar with universal laws, vibration and frequency, tantric or spiritual practices, and the concept of soulmates and soul union. 
This guy is only opening his heart to his potential twin flame this month. You need to master raising your energy up, your kundalini serpent-like energy, to reside in a 'higher self' space. Higher consciousness and spiritual connection, in short.
The Scorpio man is in a unique space in his life. Uranus in Taurus is a significant transit that is affecting everyone this year, and for Scorpio it is happening in the 7th house. This is the astrological house or relationships and partnerships. 
He is centered, wise, mature and evolved- he has already come through many life struggles and challenges, and now he is happy with or without a partner. Relationships are getting an upgrade and his attitude to intimacy is very different to what it was four, ten and fifteen years ago. 
So, you need to be willing to look past your own intense feelings of attraction and passion and meet him on a different level. Purity, soul and spiritual connection with a focus on shared interests and passions are key.
3. Be Intelligent, Extraordinarily Unique, Intuitive & Perceptive
Mirroring the Scorpio man's key qualities are the way to score points. In light of everything shared above, this man is in tune with his mind, body, emotions and soul. He is very perceptive, wise, intelligent, intuitive and emotionally mature. 
He's transcended the lusty tendencies of his youth and is therefore seeking connection on a higher level; signifying that a bond can only be formed by common shared interests. Mutual passions.
You might want to familiarize yourself with the Scorpio man traits. In short, he is all about philosophy, consciousness and spirituality, metaphysics and the occult, holistic and alternative health, magic and mystery, music therapy, sound healing, self-development and self-mastery. 
His idea of a perfect relationship is someone with a creative and sharp mind, who can add value to his life. For example, if he's a musician he will want only another talented musician; if he's a writer or artist he'll seek out another creative; if he's a famous or semi-famous athlete or speaker, he's only looking for someone with that same level of fame and prestige. This guy is only looking for the real deal.
4. Show Off Your Creative And Artistic Passions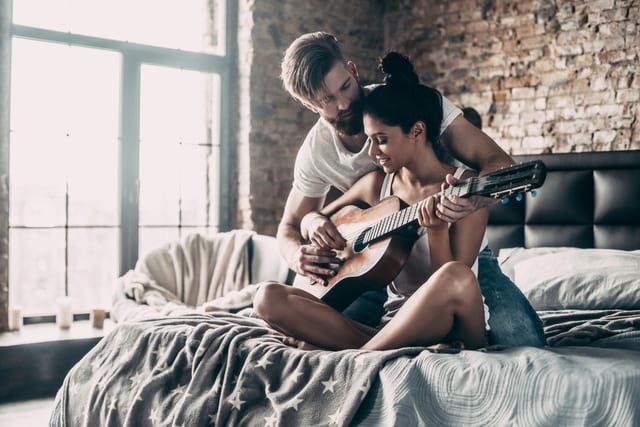 One area you can excel is if you have a rare talent or skill. January is a great month for musicians, artists, poets, painters, writers, philosophers, soul-singers, and even spiritual teachers, psychics or visionaries. You need to have something extra about you, and if you do- don't be afraid to talk about it! 
The Scorpio man is deeply attracted to confidence at this time. Because he knows how intuitive and emotionally-open he is, and how romantic and sensual a lover he is, he is wanting to create an intellectual and spiritual bond first. 
Express yourself with confidence and self-assurance. Speak to him in a way that inspires and empowers him, show him your skills, talents and abilities. It is not the month to play small and meek. He wants to be dazzled and wowed… Again, he's not looking for anything shallow or uninspiring.
5. Patience Is A Virtue
Patience really is a virtue this month. Commitment and longevity in relationships are enhanced due to Venus in Capricorn, Venus being the planet of love and sexuality and Capricorn being a grounded, practical-driven earth sign. 
Even if you do manage to catch this guy's interests, he will want to figure you out and get to know every facet of your personality. In saying this, from January 19th you can make the most of the Sun's energy and influence. 
The Sun moves into Aquarius and, when this happens, he will be more open to having his mind stimulated. Aquarius may be a fixed sign but it also has the adaptable and flexible qualities of air, whilst bringing the characteristic of intellect, wit, open-mindedness, and interest in philosophy, collective themes, and community. Aquarius is intelligent and cerebral – more mind-based and psychological than emotional. 
Appeal to your Scorpio man through your ability to converse about a range of topics. From January 1st to the 18th, you may want to consider the guidance in the first point, alongside being more laid-back and humble. 
Sensuality and subtle grace, affections and reservations are the way to catch his interest. Be more reserved and conscious about coming on too strong. If you wish to show your affections and romantic desires do so in a 'less is more' approach.
Read next: 3 Texts That Melt a Scorpio Man's Heart
Final Thoughts & Key Astrological Transits
Venus in Capricorn is making this fixed sign even more cautious when it comes to love. The Full Moon in Cancer at the end of December, 2020, has made this Scorpio guy very content and secure within himself. He has found his flow and groove in life, so he isn't considering letting anyone into his life without knowing they are the perfect partner. 
You may want to check out your love compatibility to see how you can draw him in. Pay attention to the strengths and weaknesses of your connection this month.
And let me know which of these tips you found most helpful to score your Scorpio guy. The comments are totally anonymous!
Wishing you love and light on your journey.
Your friend and Relationship Astrologer,
Anna Kovach