Hello, my dear readers, how are you feeling this first month of the new year? Tell me all about it in the comments, because I can learn from your intuition as much as you can learn from my stellar forecasts. Now, without further ado, I invite you to come along for the Scorpio man's prediction for January!
The first week is going to be quite intense for the Scorpio man, and he will have all kinds of mood and feeling fluctuations. He might even catch some feelings, so watch out, you might catch some too!
The second week of January will have the Scorpio man all over the place, but the important thing is that his focus will still be on you. Texting, spending (virtual) time together, and sharing your inner landscape with each other are bingo for this point in time. 
The third week offers a sort of a cosmic break for the Scorpio man, as the Moon will kick off illuminating his first house. You need to stay on your toes during this week as his mood will fluctuate from complete withdrawal to making playlists to convey his feelings in an indirect way. 
The fourth week offers ample opportunities to get under his skin, and to become a part of his daily routine in a most dangerous and bonding way; the two of you were attracted to each other for a reason, now exercise that reason – good luck!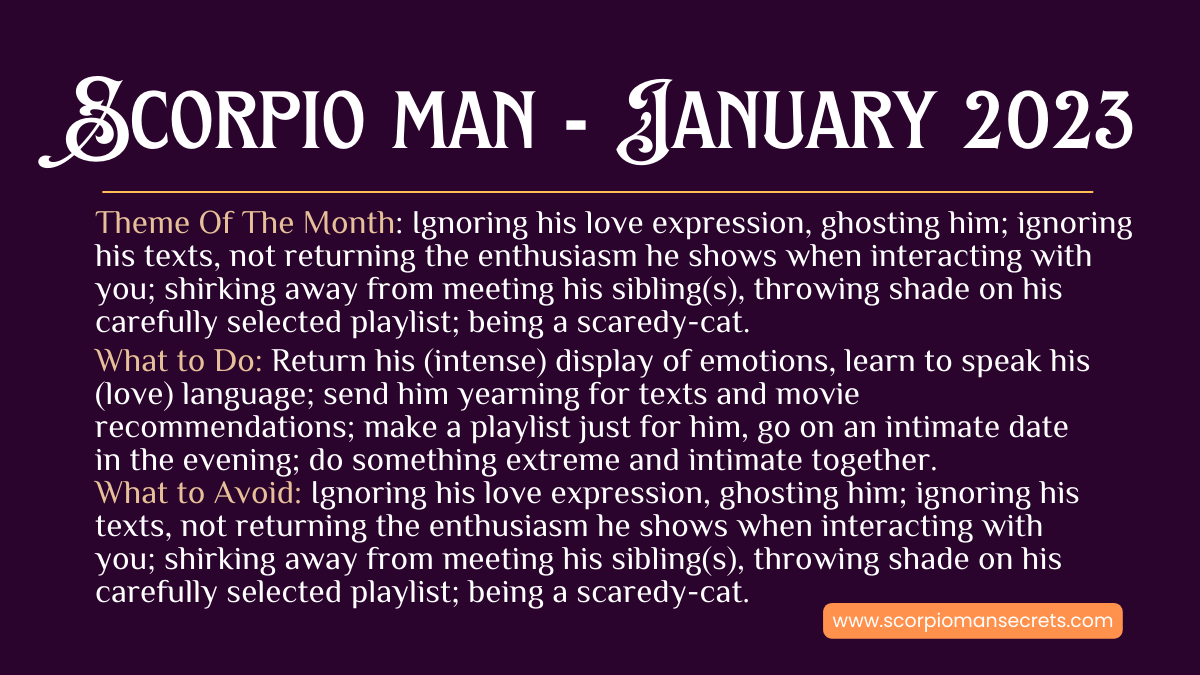 Theme Of The Month: Questioning the validity of his own feelings, and learning to balance intensity with temperance when expressing his urges. 
Magic Phrase: Babe, I feel you, I've got you, don't sweat the details, just be free and open up to me like Pandora's box. I'm here to appreciate all of your secrets and hidden gems. 
Text Magic: I want to gaze into your eyes so long and deep, you'll begin fearing for the safety of your soul. 
What to Do: Return his (intense) display of emotions, learn to speak his (love) language; send him yearning for texts and movie recommendations; make a playlist just for him, go on an intimate date in the evening; do something extreme and intimate together. 
What to Avoid: Ignoring his love expression, ghosting him; ignoring his texts, not returning the enthusiasm he shows when interacting with you; shirking away from meeting his sibling(s), throwing shade on his carefully selected playlist; being a scaredy-cat. 
Access Scorpio Man's Horoscope here –> Scorpio Man Secrets 2023
Call On Me
During the first week of January, the Scorpio man's focus will be on his lover or partner, his sex life, and life's philosophy, but first things first. At the start of the week, the Moon will touch upon the North Node and Uranus in his seventh house, which means that there are going to be some very bumpy hiccups in his long-term relationship if he has any.
If he doesn't, then this means that there will be some sudden romantic progress in his life. He might even fall in love all of a sudden, which is very atypical of him, and he'll be troubled by the intensity of his own emotions. 
As the Moon progresses and touches upon Retrograde Mars in his eighth house, he will be overcome with intense urges and impulses to express his sudden feelings. So if you are in his scope for romance, you can expect a call from him, and then some more. Things will happen, and passionate storylines will develop further. 
At the very end of the first week, on the 6th, there's a Full Moon in Cancer. It happens in his ninth house versus the Sun and Retrograde Mercury in his third house of communication. 
He will feel called to express his emotions in a "higher" way, so you can expect a poem or some similar form of writing or non-verbal expression of his feelings. This lunation will hit his heartstrings hard, so communication should light up like a Christmas tree in his case. 
In His Feelings
During the second week, there's going to be a lot of focus on his communication skills, domestic life, and his friends. He will be forced to juggle his inner volcanic eruptions concerning his love life and pretend to be a normal, responsible adult. 
The Scorpio man wants to have it all with his love interest or partner at this point in time, but the rest of his (adult) life won't let him. He will have to show up for work, work on his career progress, be there for his colleagues, spend time with his friends, and work on some lessons on his communication skills. 
He might even buy a new car or a bike at this point in time, all the while imagining lovey-dovey scenarios in his head and playing rom-com movies with him and his lover or partner in leading roles. Who would've thought, right? Well, me, of course – that's why I'm here, to help guide you onto the way to his heart. 
Towards the end of the second week, his domestic life might be activated as well, so he'll be asked to spend some time at home, with his folks, and he might even find pleasure in that, but his mind will be, of course, elsewhere. So it really is a good time to text him, and send some seemingly deep (yet very sappy) videos, movie recommendations, and songs that remind you of him. He's going to fall so hard for you, you wouldn't believe it!
I'm A Fool In Love, And Who Can Blame Me? 
The third week of the month gives a bit of a break to the Scorpio man, as the Moon traverses his first house and lets him focus on himself (and his issues) for a change. This will be a time of peace and quiet for him, so he might seem withdrawn or like he has disappeared. He's not, he's just doing Scorpio things… 
When the third week takes a bit of a charge, he'll be out of his lair again, and he'll focus on some fun and adventurous activities. You can expect him to ask you out on a date during this time, and what date will it be… It's time to laugh and have fun, he wants to leave a very positive and long-lasting impression, so he'll be very creative and will put a lot of thought into planning that evening. 
This is a good time to put your trust in him, to relax in front of him, show off how trustworthy he seems in your eyes, and let him steal the show in his subtle, incognito, platonic way. This way of making a stand can have a very deep and positive influence on his perception of your relationship. 
The end of the third week brings focus on his commute, communication, neighbors, and siblings. So, if he has any siblings, he might be called to spend time with them. Who knows, you might even get to meet them and make a positive impression. 
Otherwise, this is a good time to go on a late-night ride date, vibe with some good playlists, and be romantic beneath the streetlights. 
What A Finish, With A Cherry On Top! 
The final week of January kicks off with a Super New Moon in Aquarius, and this takes place in his fourth house of domestic matters. This is a good time for the Scorpio man to lay the foundations of a more intellectual and peaceful home life. It's also a very good and potent time to show off your domestic skills and an idyllic version of cozy peace if he was to start living with you. 
Right after the New Moon, his fifth house of fun, romance, and pleasure will be illuminated, so it's a great time to go on dates, have fun in the bedroom, and share your innermost feelings in the form of kinks and fetishes. If you say that you've never opened up like that before or with anyone else, and you throw in a couple of deep stares and passionate bites – he's going to be all yours, I tell you! 
This week is also a great time to start an active and adrenaline-inducing daily routine together, and to bond over some very extreme yet pleasant experiences that only the two of you will get and love. Extremes suit you both well, so make sure to enjoy them on a daily basis. Good luck! 
Final Thoughts 
And there you have it, my dears, I told you this month is full of juicy gossip, and was I right? Now, all you need to do is follow my advice, play your cards at the right time, and you can have him in the palm of your hand.
Your Scorpio man's mood will be mostly focused on you, during this month, and all you need to do is follow the cues in order to match it. 
Three rare transits in 2023 will shake him up heavily but also offer you an incredibly powerful opportunity to make your bond with him stronger than ever…
These planetary transits will play with his subconscious, and he won't even be able to grasp why he's suddenly feeling different.
That's why you need to understand what's happening inside of him and know how to position yourself through the different phases your Scorpio man will go through in 2023.
When you align with his subconscious needs, he'll have no other option but see you as the only woman that ever got him.
Want to be the only woman he ever needed? In his most challenging, but also in his most fun and beneficial times?
Then make sure you go ahead and grab the opportunity to prepare for 2023 on time. Check what I've prepared for you in the link below.
–> Make Your Bond With Scorpio Man Stronger Than Ever in 2023
Stay creative, free of mind, and free of spirit. Until next time, my darlings.
Love and light,
Anna Kovach