Hello Sweetheart, are you looking for an insight into Scorpio man?
April is bound to be quite an exciting month, but most of the changes, excitement and innovation in his life comes through either yourself or his contact with other people.
So if he leads a typical Scorpio life and is fairly private, and doesn't have many connections, or even if he's reclusive, his life should be a lot calmer and more predictable, unless you decide to shake things up, so you have a lot of power.
However the more people he has in his life, the more this month will throw him a curveball, but mostly in a good way. So get ready for the people in your life (if you are married to Scorpio guy) to behave unpredictably, but at the same time to generate fresh ideas and perspectives which can lead to new activities and new adventures for you together.
Mercury is retrograde in Taurus from the 21st
With Mercury being retrograde from the 21st of April, you should be cautious after that period of entering a brand new relationship with Scorpio guy, getting married or engaged.
During the three weeks after the 21st, you should advise him to be a little bit of careful of contractual negotiations or entering new agreements with people. On one hand this is a great month for him to meet new people and to establish new business relationships, but it's not a good time to set anything in stone, because he still has to sort the wheat from the chaff.
So while a lot of this month is going to spent making new connections, both romantically and in other walks of life, there has to be a period where he steps back and understands who is worth their salt and who has to go. So, if he goes quiet, don't panic just sit it out as he's in this reassessment phase.
Mercury conjunct Uranus
In April, Mercury activates Uranus which is in his solar seventh house of long term relationships, this will highlight an ongoing theme for Scorpio man, which is the need for renewal, change and adaptability within his marriage or partnership.
So, if you and Scorpio guy had felt a little bit tired, drained or emotionally exhausted, this may be a fantastic time to have a little bit of time apart and to both run off and sow wild oats, or indulge yourselves by doing exciting things that are totally out of the norm.
It's definitely time for you and Scorpio guy to be more free-spirited and have an open-minded approach about what your marriage should be like. It's time to rethink everything, not only stale routines, and to allow yourselves to act out of character and be spontaneous.
Solar Eclipse in Aries on the 20th of April
The solar eclipse happens in the final degrees of Aries, so it's affecting his solar 6th and also solar 7th house, this is an excellent time for him to seek advice or second opinions when it comes to health matters.
This is an absolutely fantastic month of the year to turn his health around with a new diet or fitness regime, but he may need to get the advice of a fitness instructor or nutritional therapist to set him on his way.
It's quite normal right now for him to have some doubts about exactly what he should do to improve his health, fitness or tackle a long-standing health issue, but there is plenty advice of advice available, so encourage him to open his mind, help him with research and use this as an opportunity to explore avenues that will increase both of your vitality and help you to reduce your dependence on pharmaceuticals, and to become more free as a result of taking better care of your health together.
This is a really good time to begin a program of fasting or a weight loss program. It's also a great time to join a gym and get fit, as changes you both make now can have a fantastic effect on his self-esteem, which will also improve the relationship.
So right now better eating and better nutrition with better sleep, mean a better relationship too, as his frame of mind is enhanced.
Venus in Gemini Square Saturn on the 14th of April
This brings about solid results in terms of romance, Scorpio are generally looking for depth and loyalty, but they also want their curiosity piqued in love and that's key to winning his heart this month.
There is a reassuring cohesiveness and balance of ingredients in his romantic life, indicating complimentary energies. He is likely to work well together with a romantic partner on pragmatic matters.
On the other hand, because Venus is in dual sign Gemini, and this indicates choice and dilemmas, it also raises questions of how committed he is to an current romance.
In romance there are choices and sacrifices that need to be made and these apply to both you and Scorpio guy.
Sun Conjunct Jupiter in Aries – 12th April
This is an excellent month for positive change with his career. He may get the opportunity for extra training to improve his prospects or he may get to work with more interesting or high profile clients.
This is an excellent time for Scorpio guy to expand the scope of his work or just take his skills to the next level.
He is more assured and confident in his communications and this positive outlook enables him to make a favorable impression especially at work.
He will be more respected by colleagues and this could facilitate a workplace romance or a romance with someone he meets via a work trip – that maybe you, if you work with him.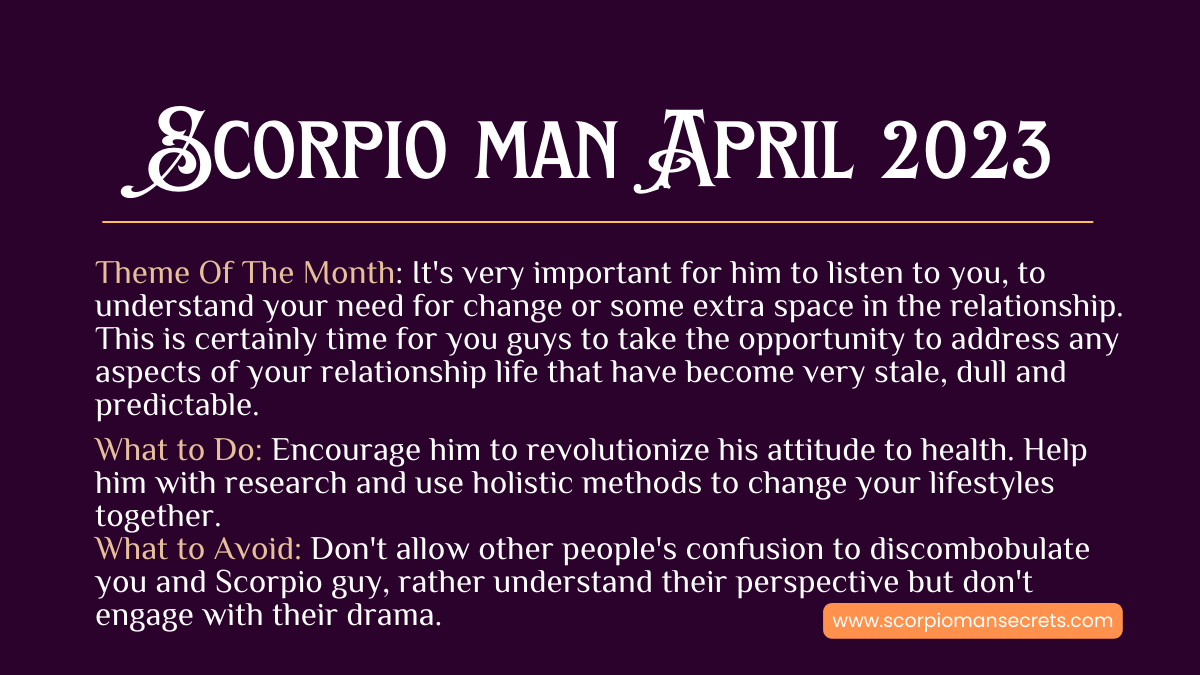 Theme of the Month – Communication in Love : It's very important for him to listen to you, to understand your need for change or some extra space in the relationship. This is certainly time for you guys to take the opportunity to address any aspects of your relationship life that have become very stale, dull and predictable.
Let's be honest, Scorpio like adventure and although he may not always welcome change, every now and again he does need a total gear shift to just replenish his energy.
Magic Phrase: "Change is the only constant in life and he should embrace it from wherever it arises."
Text Magic: "I love it when you surprise me."
Do: Encourage him to revolutionize his attitude to health. Help him with research and use holistic methods to change your lifestyles together.
Avoid: Don't allow other people's confusion to discombobulate you and Scorpio guy, rather understand their perspective but don't engage with their drama.
Access your Scorpio Man's full 2023 Horoscope Here
Week One – The message
During week one of April he is inspired by new or renewed beliefs, and he feels that it's important to convey his ideas to friends and colleagues. So, be a good listener.
He is very talkative and if he has the opportunity to teach or motivate other people, he is in his element.
It's important to persuade him to be open to receiving information no matter how crazy it may sound initially, as he can obtain significant insight during this week that can suddenly open up a new direction in the way that he thinks about the world.
Week Two – Home Revamped
April presents an excellent time for home decorating and improvement projects. A good week to invest in the value of your home.
April represents a time to say, "Why not? The theme this week is allowing yourselves to be challenged and to move into new territory.
Relationships are often the arena where he learns quickly what is and isn't working, not only in terms of the relationship, but in terms of his own mindsets.
A great week for expansion within his work and more fulfilment in his job.
The perfect month to improve your health and wellbeing together.
Week Three – He's an Individual
While relationships can inspire him and jolt him into a new mindset, ideally he should use this week to reclaim his individuality and not to conform to false or meaningless expectations. So, don't hold him to promises that aren't core to the relationship.
This is a great time for him to shift the dial by associating himself with different people or presenting himself in a whole new way without fear or sugarcoating. So encourage his rebellious side and start new activities as a couple.
Scorpio are rebels and free thinkers and this is a great month for him to rebel against attitudes that he feels have been foisted upon him by others, i.e. his parents
It's ok for him to question his commitments to people, colleagues and activities to make sure he isn't wasting energy, time is precious and he should remember that this month
Week Four – Don't let the sound of your own wheels drive you crazy
It's important to let him know when enough is enough. He's a bit of a workaholic this month and he can get frayed.
He is a bundle of nervous energy during this period, he may lack focus, and although he may start many projects, he won't finish too many of them. This will, however, have a positive outcome as no matter what the outcome, he will accumulate experiences and knowledge that will expand his horizons and open his eyes
His mind is restless and he has that incisive Scorpio curiosity right now, when he has a scent of something, he leaves no stone unturned, always craving more content as well as greater understanding.
So, how does that all sound my Darlings. Remember, I'm always here to guide and support you.
Even the most promising romances require some sacrifice that you both must make, in order to adapt within the love relationship. The lesson this month is that all commitment requires certain sacrifices, but when these are made for the right reason, you grow as couple.
The choices he faces aren't necessarily exclusively related to his feelings for you as a partner, there could also be choices to be made between love or work, love or family, love or friendship, or even sometimes love and his entire lifestyle.
This April is excellent for managing and rearranging his finances. An opportune time to remortgage or change to a more tax-efficient investment scheme.
Short journeys and weekend breaks are definitely a great way to spice up your relationship. This is also a very good month for long-distance love and internet dating.
Crowdfunding, subscription income and social media based income streams show excellent improvement.
If this hasn't quenched your thirst, you know where to find me, same place, as always.
Wishing you love and luck with your Scorpio Man,
Your sister and relationship astrologer,
Anna Kovach
---
---